every flake
has its own life
and halo
 
they stick together
just to let the world know
what Snow White looks like
 
and if you ask
those little kids and dogs
rolling in the snow
they will all exclaim
JOY!


This poem first appeared in Poems of the World (2016-2017 Winter).
Used here with permission.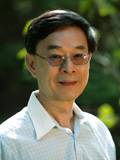 William Marr came to America from Taiwan in 1961. After receiving his master's degree in mechanical engineering and his PhD degree in nuclear engineering, he worked in the area of energy research at Argonne National Laboratory in Chicago for 27 years before retiring in 1996 to focus on his true passions — poetry and art. A former president of the Illinois State Poetry Society, William has published two books of essays, several books of poetry translations, and 23 volumes of poetry. His poetry has been translated into more than ten languages and appears in high school and college textbooks in Taiwan, China, England, and Germany. In 2018, William received the lifetime achievement award from the International Board of Examiners of Edizioni Universum and the Albert Nelson Marquis Lifetime Achievement Award from the Marquis Who's Who Publications Board. In 2019, he received the 60th Literary Award from Taiwan's Chinese Literature and Art Association. William lives with his wife, Jane, in a suburb of Chicago, Illinois. Learn more about him here.
Jeri Thompson:
I like the ending, it's kind of a surprise. Nice poem that captures what I remember of snow, (I lice in CA now).
Posted 01/17/2020 11:45 AM
cork:
I turned on the outside light and saw snow falling.
Posted 01/17/2020 09:09 AM
KevinArnold:
Great fun.
Posted 01/17/2020 08:22 AM