Between the gray night of significant snow
and the half-light of eventual dawn
when my dog and I venture forth
from the warmth of bed and home

We step into a world transformed
sculpted by wind in white reborn

The city street of Sturgeon Bay
I call my own
as yet untouched by the blade of a plow
is marked by two tire tracks
that scrawl a cursive note
between remembered margins
of curb and lawn

This morning after a winter storm
is an empty page
upon which we begin
the progress of our day

In the syntax of our steps
two living things conjoined
by a six foot length of leather
write a tale
through drift and sudden swale
in a tableau as still as held breath

Waiting


From You Can Get Here from There (2019).
Used with permission.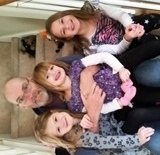 Mike Orlock is a retired high school English and American History teacher who divides his time between the Chicago suburbs and a vacation home in Sturgeon Bay, Wisconsin. He has been married for 43 years to his high school sweetheart and inspiration, Liz, and greatly enjoys being grandfather to five beautiful granddaughters who keep him, he says, "jumping like a frog on a hot skillet." Mike's short stories, poems, and reviews have appeared in a variety of publications and he was a Jade Ring winner in a contest sponsored by the Wisconsin Writers Association. His latest book, Mr. President! Poetry, Polemics & Fan Mail from Inside the Divide, was released in October.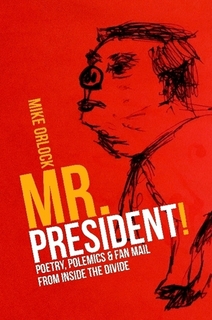 toni:
Lovely.
Posted 01/26/2020 08:34 AM
Tracers645:
Perfect capture of a new winter morning.
Posted 01/17/2020 05:01 PM
Lori Levy:
Beautiful, especially final verse.
Posted 01/17/2020 12:17 AM
healing-in-perspective:
I love the depiction of winter as a time of rebirth - I'm so used to the association with death! Positioning winter as a time of freshness and creativity through the connection between tire tracks as cursive script and you and your dog writing a tale is a lovely positive framing that will keep me warm of heart as I walk outside in the snow. Thank you.
Posted 01/16/2020 09:57 PM
Jo:
What a great way to end the poem you and your dog wrote. You've captured the stillness, the feeling of a new world born. I really enjoyed this, Mike.
Posted 01/16/2020 03:18 PM
Janet Leahy:
You capture the stillness that follows an evening of snow. You and your dog write a fine tale. Thank you.
Posted 01/16/2020 10:25 AM
jerithompson:
Very lovely images. Am I the only one waiting for your dog to "write his name" in that fresh, untouched snow?
Posted 01/16/2020 10:04 AM
michael escoubas:
Mike, you've give fresh meaning to "walking the dog"! Thank you.
Posted 01/16/2020 09:17 AM
cork:
I love the half light of eventual dawn.
Posted 01/16/2020 09:07 AM
paradea:
Lovely!!
Posted 01/16/2020 08:33 AM
pwax:
Lovely, subtle rhymes.
Posted 01/16/2020 08:23 AM
KevinArnold:
Strong ending to a fine poem.
Posted 01/16/2020 08:15 AM
laurenepersons:
Beautiful. I now want to read a poem about his granddaughters who keep him "jumping like a frog on a skillet."
Posted 01/16/2020 07:46 AM
SaraS:
Always enjoy your poems, Mike - your language and imagery resonate with me.
Posted 01/16/2020 07:45 AM
Charly:
Love this poem. I am right there in that earl untouched snowy morning
Posted 01/16/2020 07:07 AM