Wanted: Young, skinny, wiry fellows not over eighteen.
Must be expert riders, willing to risk death daily.
Orphans preferred – Pony Express recruitment ad

 
Our mailbox is new, replaced the one flattened
by juiced-up young men, midnight riding –
unaware that willful damage is a federal offense,
with fines or imprisonment possible.
If you leave the scene of a mailbox collision,
you can be prosecuted for "hit and run."  
 
Violators don't discriminate by style or color,
target post or pedestal mounted.
Brave as riders for the Pony Express,
boxes stand on less traveled roads,
vulnerable, invisible to their owners,
susceptible to attacks from baseball bats.
 
Our latest protector of postal material,
fresh from the shelves of the Fleet Farm store,
stands at the road, plain and brave –
only eighteen days out, but already wounded
when the county snowplow hurled its load. 


This poem first appeared in Midwest Medley: Places & People,
Wild Things & Weather (Kelsay Books/Aldrich Press).
Used here with permission.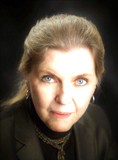 Patricia Williams grew up in the Chicago area, taught Cultural Design and Design History at the University of Wisconsin – Stevens Point for 27 years, and began writing poetry in 2013 after she retired. She is the author of a chapbook, The Port Side of Shadows: Poems of Travel – Inner, Outer and Uncharted Places (Finishing Line Press, 2017) and a full collection, Midwest Medley: Places & People, Wild Things & Weather (Kelsey Books /Aldrich Press, 2018). Patricia and her husband live in rural Wisconsin among the squirrels, deer and black bear, eight miles from a village of 1300 and 25 miles from any place larger. She is currently at work on a poetry book about women.
barbsteff:
Nostalgic piece, reminding me of similar events among folks I have known. Actually, a mailbox attached to my house was "blown up" several years ago by neighborhood kids wthout enough to do. Let's hear it for lonely mail boxes! Well done.
Posted 01/15/2020 03:11 PM
Tracers645:
Country mailboxes don't stand a chance. Love your poem!
Posted 01/15/2020 03:02 PM
Cathy's Sister:
Great poem! Even rural schools are not exempt from these midnight mailbox smashers. To keep from purchasing new mail boxes, we bring the mailbox inside every day after mail delivery and return it to its post every morning! Just another task!
Posted 01/15/2020 10:13 AM
michael escoubas:
As a product of central Illinois' farm country, I'm with you all the way on the perils of life as a roadside mailbox! Unusual subject, making for an outstanding poem!
Posted 01/15/2020 08:59 AM
paradea:
My brother and a couple of friends blew up a few mailboxes with firecrackers when he was young. I've known since I was a girl in 1958 that tampering with the US mail is a federal offense!! Great poem. Brought back memories!!
Posted 01/15/2020 08:20 AM
mail@schoolbusmart.com:
Cute poem with that nice unexpected twist at the end via the county snowplow. Randy
Posted 01/15/2020 07:33 AM
jerithompson:
Funny. The poor openly, assaultable mail box. Love the "juiced up" line!
Posted 01/15/2020 05:37 AM