Dribbling around a wagon or a chair
was as good as having an opponent
except for the reach, but a broom
placed with wide end out could prove
an arm or hand meant to steal a ball.

I learned to dribble on grass, on the gravel
of a grist mill with a hoop posted flat
against the board and batten, kept
a spare ball inside in warmth in winter
to trade for the first ball deflated by the cold.

My father told me to always work
on my passing, hitting the chalked-up silhouette
of a player on the side of the mill,
that I could assist many more times
in life than I would score.


© by Jeff Burt.
Used with the authorís permission.
†
†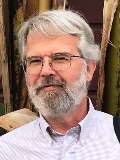 Jeff Burt lives with his wife amid redwoods and coastal fog in Central California. He lives without sidewalks on a two-lane road wide enough for one car, so sees courtesy expressed daily. He comes from a lineage of wordsmiths, a weekly newspaper publisher, a string reporter, a journalist and editor, and two pastors.
†
†
†
MatthewMiller:
Very fun poem. Basketball and winter time go hand in hand for me! Love the detail of keeping a spare ball in the warmth!
Posted 01/21/2020 12:07 PM
joecot:
Love this.
Posted 01/21/2020 11:50 AM
Arlene Gay Levine:
Beautiful life lessons both in the poem and on your country road...Thanks, Jeff!
Posted 01/21/2020 11:13 AM
finney@charter.net:
As a basketball fan, I know the assist is about the team and the win. It gives every member the chance to contribute their best. Isn?t that a wonderful way to go through life?
Posted 01/21/2020 07:15 AM