I do not
Read the newspaper
Any more
I read novels
And magazines
Recipes
And poems
I read clouds
And sunsets
Shadows
And snowflakes
I read bird prints
And tide-lines on the shore
The bark of trees
The patterns of pine needles
On the forest floor
I read people's faces
And hands
Their body language
And their eyes
 
I do not
Listen to newscasts
Any more
I listen to the wind
Swirling through the grasses
The waves as they come and go
Along the beach
I listen to the honking of geese
The quarrelling of starlings
The cooing of mourning doves
I listen to the joyful sound of laughter
And the silent sound of tears
I listen to the sweetness
Of voices singing together
And the comforting sound
Of many hearts
Beating as one
For me
This is enough


© by Joanna Zarkadas.
Used with the author's permission.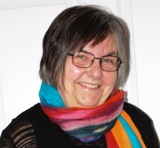 Joanna Zarkadas has been practicing "random acts of writing" since she could hold a pencil; she's spent her entire professional life encouraging middle schoolers to do the same. Joanna's work has appeared in a variety of publications and she is a regular reader at The Art of The Spoken Word, a monthly poetry venue at the library in her home town of Plymouth, Massachusetts. When she isn't writing poetry, Joanna enjoys singing with Persephone's Daughters, a women's performing group, volunteering as a bedside singer for Cranberry Hospice of Plymouth, and spending time with her children and granddaughter. 
Lorelei_Butterfly:
I know it's important to stay informed, and therefore I must be a responsible human and do my best to find out where help is most needed. But these days I often have to remind myself to step back from the sadness and fear in the news, it just grabs my heart and won't let go. Your poem is such a wonderful reminder that for every one sad and scary thing in the world, there are a hundred beautiful, loving, wonderous things as well.
Posted 01/29/2020 05:56 PM
toni:
This is a real lesson. Thank you for sharing.
Posted 01/26/2020 08:32 AM
Jo:
Enjoyed your poem and find the things that are important for living a good life are not in the news. Thanks for posting Jayne.
Posted 01/22/2020 08:28 PM
Lori Levy:
Great!
Posted 01/22/2020 02:29 PM
michael escoubas:
Truly a poem for the times in which we live, Joanna. Thank you!
Posted 01/22/2020 12:02 PM
joecot:
Wonderful. Full of wonder.
Posted 01/22/2020 11:18 AM
Jean Colonomos-1:
Yes.
Posted 01/22/2020 10:38 AM
jeeger:
Excellent double meaning in that title!
Posted 01/22/2020 09:19 AM
cork:
I am so glad to have been able to read your poem here on the Internet.
Posted 01/22/2020 09:11 AM
mail@schoolbusmart.com:
Very nice. It?s what we see, hear and feel so much more than what is reported, transmitted and opined. Randy
Posted 01/22/2020 07:44 AM
jerithompson:
The title is perfect. What you choose to listen to is enough. All the beautiful and peaceful things. Nice reminder of what's important!
Posted 01/22/2020 05:29 AM