The rain has silver sandals
For dancing in the spring,
And shoes with golden tassels
For summer's frolicking.
Her winter boots have hobnails
Of ice from heel to toe,
Which now and then she changes
For moccasins of snow.


This poem is believed to be in the public domain.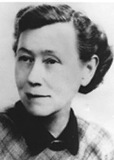 May Justus (1898 – 1989) was born in Del Rio, Tennessee to a family in which reading and storytelling were highly regarded. After graduating from the University of Tennessee/Knoxville, she taught school full-time until a heart condition caused her to restrict her activities. Inspired by her students early on, May wrote some 60 books—many of which were children's stories set in Appalachia. A strong supporter of racial equality, she worked with young people throughout her life and maintained a children's library in the attic of her home for twenty years. In her sixties, May recorded a selection of folk songs and mountain ballads she sang and loved as a child.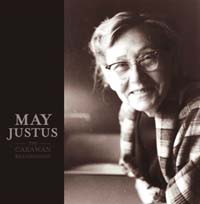 bobby:
A poem that caresses the ears And sings in the heart Thanks, Jayne
Posted 01/23/2020 06:26 PM
joecot:
Jayne, thank you for unearthing this author/singer unknown to me. More, please...
Posted 01/23/2020 12:25 PM
jerithompson:
I love this!The music, the imagery. I want to sing it, it's so wonderful.
Posted 01/23/2020 10:33 AM
cork:
Reading it aloud was a real pleasure.
Posted 01/23/2020 08:56 AM
Cathy's Sister:
Wonderful, descriptive poem!
Posted 01/23/2020 08:56 AM