We were a matched pair; the blood said so when we sliced our thumbs in the dressing
room. At fourteen I couldn't compete with your ripening body. Mine was a plank. Yet
we twinned in ballerina talent, you with your perfect ballet-body alignment and strong
feet arched like hooks, and me with my thirty-two fouettés or whip turns where each
landing before the next was an exclamation point. It was as if some force were driving
me out of myself to leave all boundaries behind. What we hid from our parents was the
plan to quit school at sixteen to join the Metropolitan Opera Ballet. When we doubted
ourselves, we were sure we'd be asked to join this progressive company when in 1951
Janet Collins became the first African-American to be a full-time soloist in ballet's white
world: dear Janet Collins, a slip of a woman we'd sometimes watch rehearse before
afternoon class absorbing how she moved. The ease with which she executed the most
complicated choreography was a language our bodies longed to speak. M and I were
going to live together in the great city of New York and that plot kept us going through a
gloomy and spotted adolescence. Oh, Marcia, everywhere we turned, we stretched
towards the invisible light. This was the love we shared.

A dancer's life—
millions of spinning miles
clocked on her odometer.


© by Jean Colonomos.
Used with the author's permission.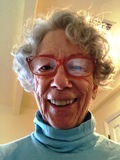 Jean Colonomos began her career in the arts first as a ballet dancer in New York, then as a member of the Martha Graham Dance Company. She eventually segued into dance journalism and, on the side, wrote poems and plays. Most recently, she's had fun writing call and response poems with fellow poet Ann Buxie; the resulting book is titled Knock, Knock and they've been reading excerpts at libraries all over Southern California. Jean is also the author of Art Farm; learn more about her at jeancolonomos.weebly.com.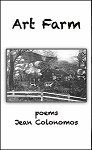 Jo:
I enjoyed your haibun so much.
Posted 01/27/2020 09:40 PM
penhart:
This is a haibun (prose-poem incorporating a haiku that enhances the mood or meaning.) Enjoyed it.
Posted 01/26/2020 11:03 AM
toni:
Fantastic piece; I could feel the words.
Posted 01/26/2020 08:29 AM
mail@schoolbusmart.com:
Brava! Brava! Wonderful piece. Randy
Posted 01/26/2020 08:10 AM
aweatherspoo:
What a cool life, god I want to wish to wear that many hats when I grow up! This poem is just so beautiful, the first line, the fifth sentence, the closing. It made me tear up ugh ❤❤❤❤❤
Posted 01/26/2020 07:12 AM