Perched on a freshly ironed white sheet
white frosting spread in swirls on
peaked copper roof of my restaurant for birds
bare Hydrangea branches cozily wrapped in white ermine
ferns bowed down buried in a white grave
bird bath now an ice skating rink
all crisp and clean
until I let the dog out


© by Judy Shimek Drechsler.
Used with the author's permission.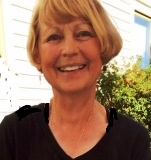 Judy Shimek Drechsler spent most of her teaching career in Anchorage, Alaska, where she taught literacy courses for the University of Alaska - Anchorage and was a full time primary teacher in the Anchorage School District. She retired to Port Townsend, Washington in 2000.and began writing poetry. Judy's work has been published in educational and literary journals and she has done presentations on literacy and writing for many conferences and school districts. Judy is the author of a poetry collection, Falling into One, published in 2016.
Lori Levy:
Great images.
Posted 01/25/2020 05:34 PM
Leona:
Wonderful imagery of the branches wrapped in ermine. It somehow makes the cold, crisp snow feel warm and welcoming!
Posted 01/25/2020 02:33 PM
finney@charter.net:
...hydrangea branches wrapped in ermine... creating blooms my Welsh poet friend Mary Gray calls snow chrysanthemums. Both such lovely images!
Posted 01/25/2020 09:21 AM
Larry Schug:
The dog. It's always the dog!
Posted 01/25/2020 08:51 AM