Half a moon crouches
Behind cloud scarves
Like a fuzzy kitten,
Ready to pounce
On the evening star.
 
That star,
Oblivious to all
Taking place by its toes,
Cheerfully opens
The galaxy's treasure box
For all who
Look up.


© by Robert Walton.
Used with the author's permission.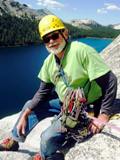 Robert Walton is a retired middle school teacher and a lifelong rock climber with many ascents in the Sierras and Pinnacles National Park. His publishing credits include works of science fiction, fantasy, and poetry. Robert's historical novel, Dawn Drums, won the Tony Hillerman Prize for best fiction in the 2014 New Mexico Book Awards. Most recently, his short story, "Do you feel lucky, Punk?" received a prize in the 2018 Bartleby Snopes Dialogue Only contest. Learn more about Robert at http://chaosgatebook.wordpress.com/.
tesssweitzer:
I love the city, but all the stars get choked out by the street lights. I think i'll see those stars one more time before I die.
Posted 01/31/2020 02:01 PM
michael escoubas:
Excellent descriptive poem, Robert. Thank you, I'm making a mental note to "look up" every chance I get!
Posted 01/31/2020 08:01 AM
jerithompson:
This is full of fresh and surprising images. Very visual!
Posted 01/31/2020 05:05 AM