Sleep has infused
his brain with energy
transformed into words.
I watch his mouth moving,
his disheveled silvery hair,
his familiar far away look.
I try to stay focused
while he lectures
on theories of black holes,
the ninth planet,
evolutionary development,
how the brain works,
religion, politics,
and ultimately,
solutions, not always pretty.
Squinting in the pale light
of early morning
I silently review our numbers,
years behind,
years ahead.
Our feet touch,
rustle the sheets
as he decodes
the puzzle
of the very earth
I simply tread upon.
I used to wonder why
he shares these
early morning rambles with
a woman who hasnít
read a science book since 6th grade
until one morning
he pauses and says, Say something.
I raise my eyebrows, ask, Why?
I like hearing your voice, he says tenderly.


From Sounds of Morning (Finishing Line Press, ?).
This poem first appeared in Cultural Weekly (November 2016).
Used here with the authorís permission.
†
†
†
†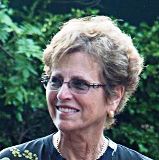 Anita S. Pulier, after retiring from her law practice in Brooklyn, happily traded-in legal writing for poetry. She's the author of three chapbooks and a full-length collection from Finishing Line Press, The Butcher's Diamond. Anita's poems have appeared in numerous print and online journals and in the anthologies Grabbing the Apple, the poetry edition of Legal Studies Forum, and Aunt Poems by The Emma Press. Anita and her husband split their time between the Upper West Side of New York, and Los Angeles. Learn more about her at http://psymeet.com/anitaspulier/main/index.php.
Tracers645:
Sounds like a beautiful marriage.
Posted 02/03/2020 02:14 PM
BAMars:
I was going to comment on the same line as Gilbert Allen. It captures the way two such disparate people can coexist so tenderly. The whole piece is beautiful. I'm a treader, too.
Posted 02/02/2020 01:06 PM
Lori Levy:
Beautiful!
Posted 02/02/2020 12:03 AM
Arlene Gay Levine:
A heart-opener and great reminder of the complicated joys of marriage. Well done!
Posted 02/01/2020 11:41 AM
peggy.turnbull:
The question beautifully answered.
Posted 02/01/2020 11:10 AM
Jean Colonomos-1:
So sweet.
Posted 02/01/2020 10:32 AM
paradea:
Oh, for someone who likes to hear the sound of my voice instead of their own!! This is why I live alone. Great poem!! Love it!
Posted 02/01/2020 10:07 AM
michael escoubas:
That's a good enough reason to "say something"!! Oh, the things we often "don't realize" which hint of one's real value. Nice poem with a deep message. Thank you, Anita.
Posted 02/01/2020 09:36 AM
Gilbert Allen:
My favorite lines are "Our feet touch, / rustle the sheets / as he decodes / the puzzle / of the very earth / I simply tread upon." Fine work.
Posted 02/01/2020 08:54 AM
KevinArnold:
This poem works with issues we can never quite describe in the Alzheimer?s support group I attend.
Posted 02/01/2020 08:02 AM
Larry Schug:
I like the way this poems shows how complicated, yet simple, we humans are and it also tells us a nice little story.
Posted 02/01/2020 07:23 AM