I am trying to be Gandhi about this
But sometimes you make me so Mussolini
You think you are so very Jesus
But really you are much more Britney
Than Mother Teresa
Sure you Isadora Duncan into a room
With your Bette Davis lies
And you expect me to
Cyrano De Bergerac
You on the phone
Or Shakespeare up my e-mails
But Iím just John Doe
Iím no James Dean or Citizen Kane
The point is I want to be
Romeo to your Juliet
I want us to John and Yoko till the end
I want our children to
Be Mickey Rooney and Shirley Temple
In the afternoons
I want them to be Dorothy and Toto
Near a rainbow
I want to be Mr. Brady
and you to be mother Maude
And though Iím no Tiger or Agassi
I still want my boys to be
little Eli Mannings
and the girls will be so Serena or Venus
Look Iíll never be a Bill Gates provider
and youíre no Keira Knightley in our quick-snaps
But still, when I see you I want to
Larry King you with questions
and Oprah you with compassion
We used to be so Brad and Angelina
But now weíve become so Limbaugh and Obama
Guess it will be this way
until we are old and Castro gray

From Media Child and Other Poems (Hen House Press, 2014).
Used with permission.
†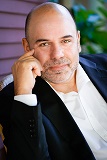 Ivan Jenson is an artist and writer who lives in Grand Rapids, Michigan. A noted artist whose paintings and portraits are featured in many distinguished collections, he is also the author of several novels, and his poems have appeared in numerous print and online journals. Ivan enjoys writing at the library in East Grand Rapids, which he says has "a fantastic view of Reeds Lake." Ivan enjoys reading, Zumba, walking his dog, painting in his new abstract stye, and strong coffee. Learn more about him at www.IvanJenson.com.


Tracers645:
So creative! Well Done!!!
Posted 02/03/2020 02:00 PM
jerithompson:
How clever is this poem (not a question), and smart as well! Loved this poem!
Posted 02/03/2020 11:06 AM
Egil:
I John Hancocked it; it Doris Dayed my day!
Posted 02/03/2020 10:05 AM
cork:
What would we do without the rich and the famous in our lives?
Posted 02/03/2020 09:07 AM
NormaB:
Clever! Really enjoyed this poem!
Posted 02/03/2020 08:59 AM
Gilbert Allen:
Inquiring minds want to know--and now they do. Fun!
Posted 02/03/2020 08:53 AM
Jccjccac@aol.com:
That was wonderful!! Great way to start my day
Posted 02/03/2020 07:31 AM
Larry Schug:
I wish I could steal this poem! Cool!
Posted 02/03/2020 06:57 AM