Early every morning he brings me coffee
tiptoes across the long length of house
into our dark bedroom
careful not to wake me

Every morning for the last fifteen years
of our 43 years of marriage he
reaches his empty hand into the shadows
finds the round coaster on the nightstand corner

and quietly places the hot brew
Each day I can tell how tired he was
by the number of brown spots along the route
his bare feet took on the chilly white tile

This unintentional Hansel
and his morning invocations mapped
so I might know the path of his love


© by Mary Ray Goehring.
Used here with the author's permission.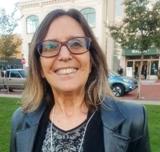 Mary Ray Goehring is a retired landscape designer who migrates between the Central Wisconsin prairie and the pine forests of East Texas and Louisiana. Her poetry has been published in several online and print Mary's poetry is heavily influenced by nature, family, and friends.
Anastasia:
What a cozy and intimate picture you have made with your words!
Posted 02/12/2020 10:51 PM
Snommy:
A beautiful way to describe how wonderful the married life is! Thanks so much for posting <3
Posted 02/11/2020 10:27 AM
MLove:
That's "teering" up, not "taring up" ! :-)
Posted 02/07/2020 05:54 PM
MLove:
Tearing up... there was a day in my life when my husband brought me one cup of coffee that changed everything.
Posted 02/07/2020 05:54 PM
peninsulapoet:
I can't think of anything that would please me more than coffee delivered to me in bed. Alas, I am the early riser. Beautiful poem.
Posted 02/07/2020 12:37 PM
Lori Levy:
Beautiful.
Posted 02/07/2020 12:18 AM
BAMars:
Very touching poem. Only slightly envious.
Posted 02/06/2020 01:06 PM
jim bourey:
A fine poem. Thank you.
Posted 02/06/2020 12:41 PM
DavidTookey:
Wonderful poem. Well done!!
Posted 02/06/2020 11:59 AM
joecot:
Sweet poem. Warmed me like coffee. Now perhaps return the favor and give hubby some warm slippers...
Posted 02/06/2020 11:39 AM
Jo:
tender and caring. My husband does the same for all the years of our marriage. I awaken to his ministrations?that loving cup of coffee enjoyed in bed. Thank you for your wonderful poem.
Posted 02/06/2020 11:33 AM
Banksonit:
A love so sweet, borne of youth, expanding across time. I know these two; it't the real deal.
Posted 02/06/2020 10:39 AM
barbsteff:
Clever, but if the poet is asleep, does this routine wake her up, or does she drink cool coffee later? I get the brown spots. Lots of those around our house from equal-opportunity spilling.
Posted 02/06/2020 09:24 AM
cork:
You have discovered the magic in coffee.
Posted 02/06/2020 09:01 AM
paradea:
I like this poem.
Posted 02/06/2020 08:55 AM
michael escoubas:
Nicely done Mary--in the words of Billy Collins: "Why not just be clear?" Which, of course, is demonstrated by your well-crafted poem.
Posted 02/06/2020 08:25 AM
tesssweitzer:
i hope i can one day feel love as pure as this.
Posted 02/06/2020 07:42 AM
mail@schoolbusmart.com:
Brought a smile to my face, but please excuse the pun, "in a drippy kind of way." Thanks, Randy
Posted 02/06/2020 07:39 AM
loveletter:
This poem has restored my faith in love. As someone who has seen lots of bad relationships, I was beginning to associate living with someone with routine. But this is tender. This is pure love. Made me feel very soft. Thank you.
Posted 02/06/2020 07:30 AM