Today, I opened the cedar box
that sits at the foot of my bed.
I looked through everything inside
and the memories danced in my head.

Once it was a Hope Chest,
a young girl's hopes and dreams,
filled with shiny crystal—
a dowry, if you please.

I wasn't looking for that special guy;
he just walked into my life.
Then, when I least expected it,
he asked me to be his wife.

Now baby books and little shoes
fill the cedar box
beside the last quilt Mama made
and Daddy's pocket watch.

A few old cards all signed with love,
and jewelry here and there,
yearbooks, report cards, hats, and clothes,
and pictures I need to share.

Letting go is hard to do
of memories good and bad;
cancelled checks and hospital bills
tend to make me sad.

So today I'll burn and bury them
and put bad memories aside
and then just let the Hope Chest be
where all good things abide.


© by Linda Tillis Crosby.
Used with the author's permission.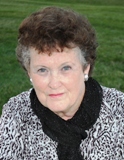 Linda Crosby is a mother and grandmother from Chapmansboro, Tennessee. Retired after 41 years in the banking industry, she now spends her time gardening, walking, enjoying nature, and spending time with her family. Linda sings in her church choir, works part-time as a school bus aide for children with special needs, and enjoys writing as a hobby.
Wilda Morris:
I'm trying to down-size. It is hare, isn't it! But discovering things you haven't seen for years brings back memories of special people and places.
Posted 02/15/2020 10:38 AM
barbsteff:
Oh no! Don't burn that which you don't want, giving your descendants an incomplete picture of your life! Sign of the times, when I graduated from high school many years ago, the local furniture store gave each girl graduate a mini hope chest, less than shoebox size.
Posted 02/10/2020 02:55 PM
MLove:
A perfect poem for a dreary day that I've spent cleaning out old papers. What a nice surprise during my lunch break! Thank you!
Posted 02/10/2020 02:01 PM
michael escoubas:
I appreciate the subtle yet effective emotional expressions contained in this poem. Thank you, Linda
Posted 02/10/2020 12:55 PM
paradea:
Hope springs eternal! I like this poem.
Posted 02/10/2020 10:24 AM
DavidTookey:
There is a wonderful, timeless feel to this poem. Well done!
Posted 02/10/2020 10:02 AM
finney@charter.net:
There?s one at the foot of my bed, a gift from my beloved grandmother for my wedding in 1967. This poem invites me to spend these moments with her again.
Posted 02/10/2020 09:58 AM
cork:
I could smell the cedar.
Posted 02/10/2020 09:17 AM