Spotted an old steady
from high school
this morning
barely recognizable
down at the other end
of the stacked high
and narrow isle of
half-priced canned
goods on sale.

A rusty razor-sharp
pop-top can from prom
night 1965 peels open
releasing sweet corsage
aromas of anticipation
with the tingling taste
of first wet-lipped kisses
still perfectly preserved
as if vacuum-sealed in time.

Attention Shoppers:

Emotional spill
on aisle number nine.
Floor extremely slick
with shock, sorrow,
and a flash flood
of what-ifs.

Request for immediate
assistance.


© by Edward Ferri, Jr.
Used with the author's permission.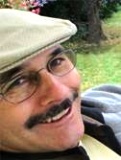 Edward Ferri, Jr. grew up on a farm near California's Santa Cruz Mountains. After traveling North America by himself on a motorcycle and living in upstate New York for several years, he eventually returned to California. Edward's work has been widely published in print and online journals and those years on the road are chronicled in his book, Glassy Air: Poems Kindled in the Long Shadow of a Lone Motorcycle, published in May, 2018.
barbara eknoian:
I love the memory. The last lines are clever.
Posted 08/11/2020 04:10 PM
Wilda Morris:
Wow! Very well-written! Memories of those days of angst and young love.
Posted 02/15/2020 10:36 AM
Jeri Thompson:
Those encounters can be great or uncomfortable. Seems like yours was regret. Looking back generally includes bittersweet emotions. Very nice poem!
Posted 02/11/2020 06:42 PM
Janet Leahy:
These chance meetings after many years still carry a bit of trauma. I love the "flash flood of what-ifs." Thanks Edward.
Posted 02/11/2020 01:34 PM
KevinArnold:
Attention shoppers indeed! Great fun.
Posted 02/11/2020 12:18 PM
jeeger:
Genius!
Posted 02/11/2020 09:45 AM
paradea:
Love it!!!
Posted 02/11/2020 09:02 AM
Larry Schug:
Old girl friends never go away, eh?
Posted 02/11/2020 07:29 AM
r1manchester:
very clever indeed!
Posted 02/11/2020 05:22 AM