A cardinal in my garden
calls to his mate
She answers him and flutters
to a white, wooden fence
where she alights
and waits for him
†
In turn, he pecks at the face
of a dried sunflower
and glides to her perch
He is bearing a seed in his beak
She opens her mouth
and he feeds her
†
For a moment I feel ashamed
I am an intruder
observing a private moment
between two lovers.


© by Carroll S. Taylor.
Used here with the authorís permission.

†
†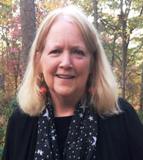 Carroll S. Taylor and her husband live in Hiawassee, Georgia. A retired educator, she is the author of two young adult novels, Chinaberry Summer and Chinaberry Summer: On the Other Side. Carroll's novels emphasize generational storytelling and anti-bullying, and her stories and poems reflect her affection for reptiles, amphibians, spiders, and other critters. Learn more about her at chinaberrysummer.com.
Wilda Morris:
True appreciation of nature. Thank you!
Posted 02/15/2020 10:34 AM
Lori Levy:
Great!
Posted 02/12/2020 05:37 PM
Leona:
This is so intimate and tender. Thank you for these lovely words!
Posted 02/12/2020 04:04 PM
Tracers645:
So picturesque! Thanks, neighbor! (Pine Log, GA)
Posted 02/12/2020 03:37 PM
Maren O. Mitchell:
Thanks, Carroll. A reminder of natural goodness.
Posted 02/12/2020 02:27 PM
mail@schoolbusmart.com:
Hi Carroll, When love is in the air, we are all intruders of the heart. Lovely glimpse of romance. Glad you fed it to us. Randy Mazie
Posted 02/12/2020 11:45 AM
tiddles:
The gift of caught moments! Lovely.
Posted 02/12/2020 11:27 AM
Jean Colonomos-1:
Your poem brings me the first smile of he day.
Posted 02/12/2020 09:34 AM