Supplies:
Construction paper
Scissors with blunt ends
Crayons
One grandchild

Directions:
Fold the paper down the middle
Draw an ear shape up to the fold
Cut around the ear shape

Results:
The ear becomes a heart
Surprise
Giggles
Hugs

Clean-up:
Nope
Just paper hearts flying
everywhere


© by Sarah Russell.
Used with the author's permission.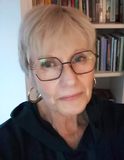 Sarah Russell lives in State College, Pennsylvania with a patient husband and a curly dog named Smudge. Her poetry and short fiction have appeared in a variety of magazines and journals and her first collection, I Lost Summer Somewhere, will be published by Kelsay Press in May. Learn more about Sarah at www.SarahRussellPoetry.net.
Wilda Morris:
Fun! Brings back good memories of construction paper, etc., with my children and grandchildren.
Posted 02/15/2020 10:33 AM
Sarah Russell:
Thank you, everyone for your kind words. The grandchild is now in college, and I had a nice note from her today when I sent the poem to her.
Posted 02/14/2020 05:22 AM
tonikochek:
So simplistic, yet it brings such warmth to my heart from the fond memories that I remember!
Posted 02/13/2020 06:01 PM
mail@schoolbusmart.com:
Brought a smile to my face. So simple - so loving. Thanks, Randy
Posted 02/13/2020 02:03 PM
Anastasia:
This makes me wish I had a grandchild?such a sweet moment to capture!
Posted 02/13/2020 01:52 PM
Leona:
So sweet! This takes me back to some beautiful times in my childhood.
Posted 02/13/2020 01:41 PM
barbsteff:
Love it!
Posted 02/13/2020 01:01 PM
BAMars:
A sweet poem capturing childhood's delights. Now I just need to borrow a granfchild!
Posted 02/13/2020 11:26 AM
tiddles:
Will be doing this with my 2 1/2 year old granddaughter tomorrow when we grandbabysit. Maybe we'll cut the hearts in half and wear the ears!
Posted 02/13/2020 11:13 AM
joecot:
Paper hearts and my heart, too. Lovely.
Posted 02/13/2020 10:38 AM
DavidTookey:
So great!!! Love the structure of this poem.
Posted 02/13/2020 10:33 AM
jerithompson:
So simply profound.
Posted 02/13/2020 09:59 AM
michael escoubas:
Will prove this one out with my 2 1/2-year-old granddaughter! Thank you Sarah.
Posted 02/13/2020 08:30 AM
Larry Schug:
The love contained in these words shines through.
Posted 02/13/2020 07:25 AM