Snow o'er the darkening moorlands,
Flakes fill the quiet air;
Drifts in the forest hollows,
And a soft mask everywhere.
The nearest twig on the pine-tree
Looks blue through the whitening sky,
And the clinging beech-leaves rustle
Though never a wind goes by.
But there's red on the wildrose berries,
And red in the lovely glow
On the cheeks of the child beside me,
That once were pale, like snow.


This poem is in the public domain.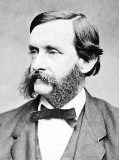 Thomas Wentworth Higginson (1823-1911) was an author, poet, editor, minister, and social reformer. Born in Massachusetts to a socially prominent family, he had four poems published by the time he was sixteen and went on to publish fiction, nonfiction, articles, essays, and more poetry. Thomas served as a colonel in the Civil War, commanding the first Union regiment of freed African American soldiers. A lifelong radical, much of his writing was in support of women's suffrage, the temperance movement, and the abolition of slavery. Higginson is better known for his association with Emily Dickinson. After receiving a letter from her in response to an article he wrote for the Atlantic Monthly, he became her friend and mentor for the remainder of her life and edited her poems for publication after her death.
sremmy:
The words in this poem are so evocative, and not just of images; also of the joy and peace of a snow-covered meadow, and cold air on your cheek.
Posted 02/20/2020 05:20 PM
barbsteff:
Drpping in adjectives, yet evocative of a time and place. Anyone who's been a sick kid would probably fit the bill as a rosy-cheeked child.
Posted 02/20/2020 12:51 PM
paradea:
I agree with Larry Schug!!
Posted 02/20/2020 11:29 AM
Jean Colonomos-1:
A quiet beauty.
Posted 02/20/2020 10:18 AM
KevinArnold:
Yes, a good find.
Posted 02/20/2020 10:01 AM
Gilbert Allen:
Yes. The quality of observation in this poem is impressive.
Posted 02/20/2020 07:43 AM
Larry Schug:
A beautiful lesson on how to see, not just look.
Posted 02/20/2020 07:28 AM