Dear old car, you were never flashy,
never brash, never one to wink at passers-by.
You never begged for favors or attention,
never demanded high-test fuel or care
beyond the biyearly oil change.
Quiet silver companion, with hubcaps
so scarred no one bothered to steal them,
I valued and depended upon your steadiness
and preference for the slow lane.
We aged together well, made allowances
for each otherís growing frailties.
When one window mechanism failed,
I just opened a different window,
and pretended all was well.
When a side view mirror cracked off
on a garbage can, or a chimney,
or a school bus, or a telephone pole,
you knew it would be repaired,
with none the wiser. You never told.
But O my friend of many years,
the rust can no longer be ignored,
and the world would be a safer place for all,
were I to have and use a back-up camera.
Our ride together is drawing to an end.
How to say goodbye when we must part?
Letís just say farewell, and have faith
we will meet again on some distant shore,
wherever it is failed flesh and metal
rust side by side and watch the waves.


© by Pat Hale.
Used with the authorís permission.
†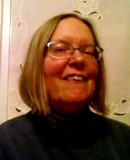 Pat Hale is a Connecticut poet with fond memories of her childhood in western Pennsylvania. She has loved to read and write since she was a little girl. Author of one full-length collection and a chapbook, Composition and Flight, her award-winning work has appeared in many journals. Pat serves on the board of directors for the Riverwood Poetry Series, a group bringing poetry events to central Connecticut. She recently traded in her gray 2003 Toyota Corolla, it having seen better days.
michael escoubas:
I've bought and traded too many cars to count; this poems speaks to just about all of them! Thank you, Pat.
Posted 02/25/2020 01:19 PM
barbsteff:
Good idea for a poem. My husband's dearly loved 1988 Toyota Celica died recently. He grieves the loss. Poem challenge for me.
Posted 02/25/2020 11:59 AM
Glen Sorestad:
Very well said, Pat. Everyone has a fave among those discarded autos and can relate to this poem. I love that final pair of lines.
Posted 02/25/2020 10:32 AM
Larry Schug:
I've been trying a long time to come up with a poem for my 1991 F-150, a loyal, hard-working hauler of firewood,to no avail (yet). This poem inspires me to use that old truck a vehicle (no pun intended, but hey)to tell other stories. Thank you, Pat. The last four lines are a new path to flights of fantasy.
Posted 02/25/2020 08:27 AM
marsha:
And I'm so happy with my 2002 Chevy Malibu. It had driven through all this snow and ice so reliably well. But, yes, the rust is getting worrisome. I'm curious, what was that beloved Toyota traded for? Marsha
Posted 02/25/2020 08:03 AM
mail@schoolbusmart.com:
Nice, creative piece. Love it when we capture our emotional ties to inanimate objects. But it's so true how we come to depend on them, form attachments, and find it difficult to handle the separations at the end. From cars to old shoes. Randy.
Posted 02/25/2020 07:58 AM
paula:
Too funny that I drive a 2003 Civic and am trying to replace it. Finally.
Posted 02/25/2020 06:41 AM