is the barren beauty
of unmasked trees,
the benediction of soft
snow the white grace
of silence the peace
of aloneness the patience
of abiding until Spring


© by Merle Hazard.
Used with the author's permission.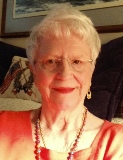 Merle Hazard lives in Macon, Georgia. Her poems have appeared in a number of secular and inspirational publications. A home health and hospice nurse for many years, she worked as a director of programs as well as at bedsides. Now retired, Merle enjoys reading, walking, playing bridge, feeding the birds, her garden, and spending time with friends and family--including her two sons and six grandchildren.
barbsteff:
Beautiful expression of winter. From your days in Wisconsin, not Georgia, I'll bet. Barb Germiat
Posted 02/26/2020 11:19 PM
Wilda Morris:
This is so lyrical. Thank you for sharing it!
Posted 02/26/2020 06:30 PM
CamilleBalla:
Exquisite contemplative poem embracing Winter. I especially like ?barren beauty of unmasked trees?.
Posted 02/26/2020 03:47 PM
peninsulapoet:
Lovely
Posted 02/26/2020 10:27 AM
suzanne:
Simply lovely.
Posted 02/26/2020 09:46 AM
cork:
I love your spaces.
Posted 02/26/2020 09:24 AM
paradea:
I love the word 'abiding'. Lovely poem.
Posted 02/26/2020 09:07 AM