There are those days when a pile of brown leaves,
paged together say, "It's still winter."
They stay until I can't stand it any longer.
I bring my weapons, a rake and my offered hands.
I can't wait for the wind to send them on.
I must join in the beginning
of this new season of youth, of growth.
 
I'm too old to stay indoors now.
Seedlings are hatching in my basement,
under "grow" lights.
They are tiny little green things,
sprouts, children of earth,
restorers of hope.
 
The sun is my compatriot.
She moves towards me now
in agreement.
We will work together, united
in a common cause:
life's renewal.
 
We will cultivate life.


© by Marilyn Zelke Windau.
Used with the author's permission.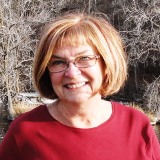 Marilyn Zelke Windau started writing poems at age thirteen, sitting in a quiet bathtub with a pillow, pen, and notepad. A retired elementary school art teacher, she finds visual observation to be of great value to the word arts and her poems tell stories of caught moments in nature and people's lives. Author of four books of poetry, Marilyn lives in Sheboygan Falls, Wisconsin with her husband and golden retriever.

barbsteff:
The sun is my compatriot. Wonferful line and thought.
Posted 03/06/2020 01:55 AM
Jo:
Thanks, Marilyn. Those "tiny green things" carry us forward. We will cultivate life." Amen.
Posted 03/05/2020 03:02 PM
Janet Leahy:
What a joyful poem of things that await us. It will be wonderful to be in the garden again. Thanks Marilyn.
Posted 03/05/2020 08:35 AM
paula:
Great poem! I just planted a few seeds myself--but no grow light!
Posted 03/05/2020 05:34 AM