Another Dayton's purchase,
Oval Room clearance, possibly
perfect, bought one night

when I'd taken the 16B from
my dorm to downtown Minneapolis
and wandered lonely as a cloud

through the stores—Young Quinlan,
Powers, Donaldson's, and (of course)
Dayton's, where I always ended up,

lonely leaf on the stream of shoppers
rushing by with somewhere to
go, while I drifted from Juniors

to Lingerie to Better Dresses
looking for the elusive bargain—
a dress that would make (even)

me beautiful, velvet black as
night, its three diamond buttons
shining like stars on my shoulder.


© by Joyce Sutphen.
Used with the author's permission.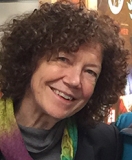 Joyce Sutphen is the author of multiple award-winning books of poetry and was co-editor of To Sing Along the Way, an anthology of Minnesota women poets. A professor emerita of literature and creative writing at Gustavus Adolphus College in St. Peter, Minnesota, she has garnered numerous fellowships and residencies in the course of her poetry career. In 2011, she was named Minnesota's Poet Laureate. The oldest of nine children, Joyce grew up on a farm near St. Joseph and currently lives in Chaska. She loves both prairie and city and says "a perfect afternoon for me would be a long walk around the big marsh behind my house, or a ramble through Holland Park in London." A fan of Shakespeare, Joyce often uses her commute time to memorize poems by favorite poets. Learn more about her at www.joycesutphen.com.

Jonidee:
This brings back such a happy memory for me, shopping with my grandma downtown Minneapolis. Thank You!
Posted 03/24/2020 11:08 AM
barbsteff:
lonely leaf on the stream of shoppers - great line, and I love the local detzil wou've woven in, grounding us who have acquaintance with Minneapolis. Brava!
Posted 03/06/2020 05:49 PM
Sharon Waller Knutson:
I loved all your poems, Joyce. This is different than most. I loved the title: Little Black Velvet and the nature metaphors and the alliteration, lonely as a cloud, lonely leaf on the stream of shoppers and black as night, diamonds shining like stars on my shoulder
Posted 03/06/2020 09:54 AM
paradea:
I love Joyce Sutphen's work!! This is another wonderful poem!!
Posted 03/06/2020 09:19 AM
cork:
I loved shopping with you.
Posted 03/06/2020 09:13 AM
Larry Schug:
The final stanza is a poem on its own.
Posted 03/06/2020 08:28 AM
michael escoubas:
I'm a guy but identify totally with finding and wearing clothes that make me feel a certain way: that elusive sense of "stars on my shoulders." Thank you Joyce!
Posted 03/06/2020 08:26 AM
paula:
What a great way to use commute time. I have had a few, only a few, dresses like this one.
Posted 03/06/2020 06:17 AM