From where I lingered in a lull in March
outside the sugar-house one night for choice,
I called the fireman with a careful voice
And bade him leave the pan and stoke the arch:
'O fireman, give the fire another stoke,
And send more sparks up chimney with the smoke.'
I thought a few might tangle, as they did,
Among bare maple boughs, and in the rare
Hill atmosphere not cease to glow,
And so be added to the moon up there.
The moon, though slight, was moon enough to show
On every tree a bucket with a lid,
And on black ground a bear-skin rug of snow.
The sparks made no attempt to be the moon.
They were content to figure in the trees
As Leo, Orion, and the Pleiades.
And that was what the boughs were full of soon.


This poem is in the public domain.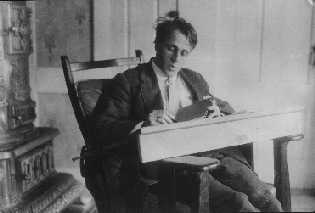 Robert Frost (1874-1963) was born in San Francisco, but moved to Massachusetts with his family after his father's death in 1885 and, ultimately, lived in a number of homes and farms throughout New England. Though he attended several prestigious colleges and universities, he never graduated from any of them. Nonetheless, Robert spent most of his adult life teaching, receiving more than forty honorary degrees, along with four Pulitzer Prizes. Robert's interest in poetry started early; he published his first poem while in high school, sold his first poem at twenty, and by the age of forty, was one of America's best known and best loved poets. Rural life is a consistent theme in Robert's poetry, as is simplistic language that is pleasing to the ear; he felt strongly that poetry was best appreciated when read aloud.
michael escoubas:
What a master of diction and rhyme! I'm taking notes.
Posted 03/09/2020 10:11 AM
paradea:
What a wonderful poem!! I love Robert Frost!
Posted 03/09/2020 09:17 AM
Gilbert Allen:
I'd forgotten this fine poem, Jayne. Thanks for bringing it back to my attention.
Posted 03/09/2020 09:12 AM