Daffy-Down-Dilly came up in the cold,
†††† Through the brown mold,
Although the March breezes blew keen on her face,
Although the white snow lay on many a place.

Daffy-Down-Dilly had heard underground
†††† The sweet rushing sound
Of the streams, as they burst off their white winter chains;
Of the whistling spring winds, and the pattering rains.

"Now, then," thought Daffy, deep down in her heart,
†††† "It's time I should start!"
So she pushed her soft leaves through the hard, frozen ground
Quite up to the surface, and then she looked Ďround.

There was snow all about her, gray clouds overhead;
†††† The trees all looked dead,.
Then how do you think Daffy-Down-Dilly felt,
When the sun would not shine, and the ice would not melt?

"Cold weather!" thought Daffy, still working away;
†††† "The earth's hard today!
Thereís but a half inch of my leaves to be seen,
And two thirds of that is more yellow than green!

ďI canít do much yet, but Iíll do what I can.
†††† Itís well I began!
For, unless I can manage to lift up my head,
The people will think that Spring herself 's dead!"

So, little by little, she brought her leaves out,
†††† All clustered about;
And then her bright flowers began to unfold,
Till Daffy stood robed in her spring green and gold.

O, Daffy-Down-Dilly, so brave and so true!
†††† I wish all were like you!
So ready for duty in all sorts of weather,
And holding forth courage and beauty together.


This poem is in the public domain.
†
†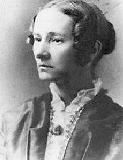 Anna Bartlett Warner (1827 - 1915) was born into a wealthy family on Long Island, New York. Fortunes reversed, however, and like Louisa May Alcott, Anna began writing to generate income for the family. Though she and her sister, Susan, often worked together, Anna produced 31 novels on her own, in addition to many poems. A devout Christian who taught Bible classes to West Point cadets (her uncle was a chaplain there) for more than forty years, Anna is probably best known as the author of the beloved children's hymn, "Jesus Loves Me." Her former home is now a museum on the grounds of West Point.
barbsteff:
It'll be at least another month before the early daffodild bloom here, but thanks anyway. Quite a preachy ending to this poem.
Posted 03/10/2020 09:50 PM
peggy.turnbull:
This poem is a great celebration of the much-longed-for daffodil.
Posted 03/10/2020 12:30 PM
mail@schoolbusmart.com:
Fun poem. Great rhyming scheme and tempo breaks
Posted 03/10/2020 11:37 AM
Jean Colonomos-1:
Jayne, I love your archeological digs, publishing past poets many of us might never have the pleasure of reading.
Posted 03/10/2020 11:00 AM
paradea:
I love daffodils, always called Easter lilies in our family!! Great poem!!
Posted 03/10/2020 10:52 AM
KevinArnold:
Yes, nice find.
Posted 03/10/2020 09:51 AM
michael escoubas:
WOW! I love this!! This poem possesses a delightful cadence and rhyme, not to mention a lesson good for all time! Great post, Jayne! Thank you.
Posted 03/10/2020 08:56 AM