When I meet my little one at the crib's rail,
   he sways like a
rocking chair
   that has just been left.

Outside, warm snow cozies
   down the drowsy spines of gray
jonagolds, kissing
   the sleepy bangs of grass.

Finger brushing his cheek, I say
    Time to sleep, but he keeps
looking at me with eyes slowly sweeping
   over my face.

The faithful wind shushes
   sleepy boughs,
lays them down and
   covers them with deep, easy breath.

My boy and I both
   yawn. Trust how close I feel.
He curls into his blanket,
   Okay, I will.


© by Matthew Miller.
Used with the author's permission.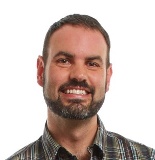 Matthew Miller teaches social studies, swings tennis rackets, and writes poetry - all hoping to create a home. He pretends his classroom is a living room, filling it with as many garage-sale chairs as he can afford.  Matthew lives beside a dilapidating apple orchard in Goshen, Indiana and tries to shape the dead trees into playhouses for his four boys. He vacillates between wanting to poison and wanting to feed the groundhogs, rabbits, and cardinals that try to make their homes in his garden; for now, they've all chosen peace. Learn more about Matthew here.
Anastasia:
What a lovely moment to capture in words!
Posted 03/21/2020 01:22 AM
ghctenmile@earthlink.net:
Thank you, Matthew, for this poem--it's hard to put in words just how wonderful moments such as your poem celebrates but you did it! Grace
Posted 03/18/2020 06:45 PM
Janet Leahy:
The sway of that rocking chair is a rhythm I feel throughout the poem. I know that vacant chair and miss family members who set the rhythms it held. Lovely poem thanks Matthew.
Posted 03/18/2020 03:38 PM
Linda Lee Konichek:
The images and mood of this poem are so heart-felt. I just love the picture in the fourth stanza. The "faithful wind...shushes...lays them down...covers them with deep easy breath."What a beautiful mind-picture!
Posted 03/18/2020 01:59 PM
Tracers645:
Very beautiful. Thank you for sharing the moment.
Posted 03/18/2020 01:56 PM
Glen Sorestad:
I love the poem with so many especially effective images -- that swaying rocking chair and the "drowsy spines of grey". Lovely poem, Matthew. Thanks for sharing.
Posted 03/18/2020 11:08 AM
BAMars:
Beautiful, quiet, loving scene is so vividly evoked. I substitute teach - or did before the schools shut - and I always notice the classroom environment. Thank you for creating such a welcoming home for kids. You never know who has no other.
Posted 03/18/2020 10:51 AM
paradea:
I can see AND feel this wonderful poem! Love it!!!
Posted 03/18/2020 10:05 AM
cork:
Similes, metaphors, and personification.
Posted 03/18/2020 09:12 AM
michael escoubas:
Nicely done, Matthew! Great rhyming and best of all is the way you "show" the delightful relationship between you, your little one and the natural world. Thank you.
Posted 03/18/2020 08:51 AM
Larry Schug:
Of course, I like the whole poem--who wouldn't--but I love the image of the vacated rocking chair.
Posted 03/18/2020 07:49 AM