After a brutal Maine winter
the world dissolves
in weak sunshine and water.
Mud sucks at your shoes.
Itís impossible to keep the floors
or the dogs clean.
Peeling layers of clothes like onion skins,
you emerge pale, root-like, a little dazed
by brighter light.
You havenít looked at your legs
in months
and discover an alarming new geography
of veins and flaws.
Last year you scoffed at people
who got spray-tanned
but itís starting to appeal.
Your only consolation is the company of others
who havenít been to Nevis
or Boca Raton,
a pale army
of fellow radishes,
round onions,
long-underground tubers.†

From Never Say Never (Moon Pie Press, 2004).
Used here with permission.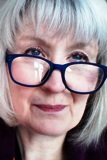 Alice N. Persons is the editor and publisher of Moon Pie Press, established in 2003, which publishes work by poets from all over the country and now has 119 books in its catalog. Author of five collections herself, Alice lives in Westbrook, Maine with two cats and a dog, all rescues, and serves on the board of the Animal Refuge League of Greater Portland. Alice loves painting, holidays, travel, baking, and Maine in all seasons.
DSinclai:
I found this poem in the Spring, 2020 issue of Northern Woodlands magazine and immediately ordered two of your books. So glad to meet you.
Posted 02/03/2021 03:02 PM
Wilda Morris:
"It?s impossible to keep the floors or the dogs clean." Or the children! I hadn't thought of writing a mud poem, but you nailed it.
Posted 03/23/2020 11:12 PM
jim bourey:
Wonderful sounds in this unveiling poem. Especially like those root vegetables in the last four lines. Perfectly describes our own Adirondack Mud Season. Thanks for this one.
Posted 03/21/2020 04:19 PM
Lori Levy:
I especially like the last 4 lines.
Posted 03/20/2020 09:56 PM
cork:
...an alarming new geography...
Posted 03/20/2020 09:50 AM
paradea:
"you emerge pale, root-like, a little dazed by brighter light" I love this line!! We self-isolating tubers need all the fresh air we can get!! Wonderful poem!
Posted 03/20/2020 09:22 AM
SAR2126:
The perfect Spring poem.
Posted 03/20/2020 08:45 AM
michael escoubas:
Love the irony in this poem Alice!I, too, have noticed that "alarming new geography." Well done.
Posted 03/20/2020 08:44 AM
Larry Schug:
Indeed! Radishes, Onions and Tubers, oh, my!
Posted 03/20/2020 07:11 AM