Listen for sandhill cranes.
Count the robins.
Pick dandelion greens
for Grandma's spring tonic.
Praise the peepers.
Count the robins.
Open the garden gate.
Till the soil.
Search for asparagus.
Count the robins.
Smile at the first morel.
Catch bluegills with a cane pole.
Count the robins.
Put lounge chairs on deck.
Sit down in the sun.
Roll up pant legs.
Lean all the way back.
Count the robins.


© by Julie Eger.
Used with the author's permission.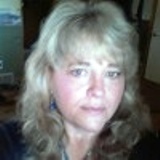 Julie Eger is a massage therapist by trade, but is also an author who enjoys writing poems and unusual stories from the heart of Wisconsin. After raising two sons, she now lives with her husband and a black Golden Doodle. Learn more about Julie at https://julieceger.wordpress.com/.
Mal F Robertshaw:
This made me feel like my soul was a cat stretching in a sunbeam
Posted 04/07/2020 06:33 PM
Mal F Robertshaw:
This made me feel like my soul was a cat stretching in a sunbeam
Posted 04/07/2020 06:33 PM
barbsteff:
Count the robins! Yes. Very evocative details.
Posted 04/01/2020 03:27 PM
paradea:
Peepers are worthy of praise. I like this poem!!!
Posted 04/01/2020 10:55 AM
rnordstrom:
Very nice, Julie
Posted 04/01/2020 10:50 AM
cork:
Our first robin arrived yesterday and we have snow this morning.
Posted 04/01/2020 10:10 AM
KevinArnold:
Yes, evocative and fun.
Posted 04/01/2020 09:58 AM
SAR2126:
Excellent first choice to kick off the Spring Parade. Thank you.
Posted 04/01/2020 08:56 AM
michael escoubas:
Totally superb, Julie! Takes me back to my childhood when I did many of those things.
Posted 04/01/2020 08:54 AM
mail@schoolbusmart.com:
I like the leaning back on chair, sit in the sun and count the robins! Randy
Posted 04/01/2020 08:49 AM
Larry Schug:
Being sheltered at home all the time, more of us now have the time to do all these tasks, all of them worthy endeavors. Nice!
Posted 04/01/2020 07:53 AM