What entrancing work the girls make—
mother, two daughters, long trowel and rake,
planting delphinium and columbine,
weeding the dead and unwinding the vine.
How happy their thumbs impressing the roots,
how tender their fingers spreading the shoots.
Look! The hose sprays, the ground grows velvet black.
Beads form on petals, diamonds to attract
the first April bees—three simple, pure and true,
who stand adoring, adorning the view.


© by Jeff Burt.
Used with the author's permission.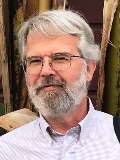 Jeff Burt lives with his wife amid redwoods and coastal fog in Central California. He lives without sidewalks on a two-lane road wide enough for one car, so sees courtesy expressed daily. He comes from a lineage of wordsmiths: a weekly newspaper publisher, a string reporter, a journalist and editor, and two pastors.
cmbharris@netzero.net:
Very tender. Love it.
Posted 05/06/2020 03:46 PM
MLove:
This is beautiful and would be a good poem to memorize.
Posted 04/05/2020 03:12 PM
barbsteff:
?adoring, adorning? Masterful wordsmithing!
Posted 04/03/2020 03:29 PM
Lori Levy:
Like a painting. Beautiful.
Posted 04/03/2020 12:20 AM
paradea:
So beautiful!! One is nearer to God in a garden than anywhere else on Earth.
Posted 04/02/2020 12:34 PM
Jean Colonomos-1:
How lovely and nostalgic.
Posted 04/02/2020 10:47 AM
mail@schoolbusmart.com:
I can just see the ground becoming velvety black and diamond beads on the leaves, and you watching your family standing over their work. A great picture painted in words. Randy
Posted 04/02/2020 10:31 AM
suzanne:
Simply beautiful. Thanks for sharing it.
Posted 04/02/2020 09:18 AM
Janet Leahy:
A wonderful poem to be reading today, we look for common miracles in the midst of uncommon and devastating news. Love how the thumbs and fingers do the delicate work of planting and the ground velvet black, Thanks Jeff
Posted 04/02/2020 09:12 AM
michael escoubas:
Thank you Jeff, for this portrait of life as it used to be and will be again, when we're virus free.
Posted 04/02/2020 08:40 AM
MatthewMiller:
Wonderful! I love how the rhyme doesn't feel forced and keeps the poem flowing!
Posted 04/02/2020 08:36 AM
Larry Schug:
Entrancing and heart felt, yet without over-sentimentality. Excellent.
Posted 04/02/2020 07:22 AM