The plot conceived, I pencil out
the rows, tamp down the labels,
eggplant here, carrots there,
Brussels sprouts and thyme.
†
I plant the seeds indoors, crow
when they sprout, watch over
them with love, count each little leaf,
tend each uncoiling sprig.
†
Set outside to harden, they
rebel, strips of paper flying off,
ink bleeding away, pots a mess
of growing unknowable stuff.
†
The corn I know, tomatoes
and the tendrils of a squash. But what is
this dark round leaf, this odd
frond, this rough purplish petal, this mess?
†
My plants go into the ground
like that, what could be beets
paired with onions, kale mated
to yams, jicama to dill. They thrive,
†
create an unruly jumble of leaves, stems,
blossoms. I gasp! A tiny sugar snap pea.†
I pull it off, take a bite, gasp again at the
sweetness in my mouth. Then I begin to cry.


© by Ruth Gooley.
Used with the authorís permission.
†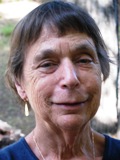 Ruth Gooley has published a variety of poems in†Your Daily Poem, Ibbetson Street Review, vox poetica, and†NatureWriting, among others. She also published a†dissertation, "The Image of the Kiss in French Renaissance Poetry." Ruth makes her home†in a cabin in the Santa Monica mountains, where she lives in harmony with the abundance of nature there.
†
†
†
Lori Levy:
Love the image of this garden with its "jumble of leaves, stems,/blossoms."
Posted 04/07/2020 07:16 PM
BAMars:
I'm not much of a gardener, but I did just plant some sunflower seeds yesterday which I'll be watching with rapt attention. I understand the tears at the end. Beautiful poem.
Posted 04/07/2020 11:20 AM
cork:
I am overwhelmed by so much vivid detail and could cry.
Posted 04/07/2020 11:05 AM
DavidTookey:
Lovely!
Posted 04/07/2020 10:36 AM
Larry Schug:
The final sentence just floors me, the essence of a human response to the goodness of Earth.
Posted 04/07/2020 07:51 AM
suzanne:
You captured my gardening efforts so beautifully. Thank you for a lovely poem. Be well.
Posted 04/07/2020 07:44 AM