A cello string vibrates
With a note's beginning,
Or its end.

The melody rises
Above moonlit snows
And star-brushed ice.

The melody rises
Above bee-washed blossoms -
Lupine, iris, columbine.

The melody rises
Until the bow lifts,
In farewell.


© by Robert Walton.
Used with the author's permission.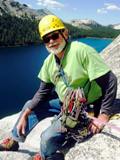 Robert Walton is a retired middle school teacher and a lifelong rock climber with many ascents in the Sierras and Pinnacles National Park. His publishing credits include works of science fiction, fantasy, and poetry. Robert's historical novel, Dawn Drums, won the Tony Hillerman Prize for best fiction in the 2014 New Mexico Book Awards. Most recently, his short story, "Do you feel lucky, Punk?" received a prize in the 2018 Bartleby Snopes Dialogue Only contest. Learn more about Robert at http://chaosgatebook.wordpress.com/.
barbsteff:
Lovely imagery.
Posted 04/11/2020 05:00 PM
KevinArnold:
A deft touch.
Posted 04/11/2020 09:58 AM
paradea:
Lovely!!!
Posted 04/11/2020 09:39 AM
michael escoubas:
Powerful poem, Robert; its power derives from its restraint. Thank you. I like it especially today as one is subdued until tomorrow when jubilation prevails.
Posted 04/11/2020 09:27 AM
Larry Schug:
And the vibrations continue through this poem even "after the bow is lifted".
Posted 04/11/2020 07:17 AM