Heavy spring snow overnight,
more than predicted, slush
on the path, cotton laden
branches, bewildered robins.
It is sudden and white, everything
white, erasing April, chalking over
crocuses, camouflaging snowdrops
with its own. By evening the sun
will wave its warmth like a wand
and spring will reappear, but oh,
the beauty of a whitewashed field,
my dark footprints, my dog's
nose-down, meandering delight.


© by Sarah Russell.
Used with the author's permission.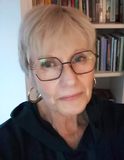 Sarah Russell lives in State College, Pennsylvania with a patient husband and a curly dog named Smudge. Author of I Lost Summer Somewhere, her poetry and short fiction have appeared in a variety of magazines and journals. Learn more about Sarah at www.SarahRussellPoetry.net.
Sarah Russell:
Thank you so much for your kind thoughts!
Posted 04/12/2020 10:02 AM
LindaCrosfield:
Gorgeous! We've had recent days of that sort of thing here in the Kootenays (South east BC).
Posted 04/10/2020 08:01 PM
peggy.turnbull:
I want to be in that field, making dark footprints.
Posted 04/10/2020 07:34 PM
BAMars:
Another beauty - sounds like my trip to Colorado last April!
Posted 04/10/2020 06:34 PM
Lori Levy:
Beautiful!
Posted 04/10/2020 02:53 PM
peninsulapoet:
Beautiful poem.
Posted 04/10/2020 11:56 AM
KevinArnold:
This isn?t a ?poem of the last line,? this is a ?poem of the last word.? Fun!
Posted 04/10/2020 11:21 AM
joecot:
A nose-down delight, this poem.
Posted 04/10/2020 11:11 AM
michael escoubas:
Love the way this poem places me "there" and recalls common experiences yet makes those experiences fresh again. Well done, Sarah!
Posted 04/10/2020 09:19 AM
Ronaccount:
i live where there is no snow, so I have not seen the phenomenon Sarah discusses. But she does an excellent job of showing me.
Posted 04/10/2020 09:13 AM
Gilbert Allen:
This poem brought back memories of my springs in upstate New York.
Posted 04/10/2020 08:36 AM
Larry Schug:
Like a page from my diary--if I wrote in one. I can relate and Smudge is like my old dog, Gage.
Posted 04/10/2020 07:19 AM