A flyer endeavors an end run,
"Time stands still for no one."
Here's a chance to be a leader,
the headline counsels its readers.
Time to Make the Payments
for Cremation Prearrangements.
As the last bullet reasons,
though now's the time for leaving,
you can leave loved ones feeling breezy:
Everything is handled, rest easy.
 
However, I've ditched preparations
for departure. As to the generations
of effects jammed in the attic,
none will render my heirs ecstatic.
Crumbling letters no longer desired,
Grandma's birthday checks long expired,
postcards from departed places—ephemera,
all knickknacks that mark my era.
I'm still here, though. I'll leave the pile
to extend my legacy for a while.


This poem first appeared in Maximum Tilt: An Anthology
from the Solstice Low-Residency MFA Program in
Creative Writing at Pine Manor College (January, 2020).
Used here with permission.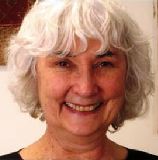 Gaby Bedetti lives in Lexington, Kentucky. When she is not at Eastern Kentucky University teaching students to write and produce plays, do stand-up, and edit their lit journal, she enjoys hiking, taking photos, and singing in a choir. Every June, she enjoys blogging a poem a day on LexPoMo and, at present, she is co-translating Henri Meschonnic's poems from the French.
barbsteff:
had to sort through the leavings of a relative who was a hoarder a few years ago. No fun, but i claimed bragging rights.
Posted 04/09/2020 05:25 PM
cork:
We have made the payments for cremation prearrangement.
Posted 04/09/2020 10:20 AM
MLove:
Interesting timing and interesting times. Our junk mail has dropped to almost none. We used to get 10-12 pieces of mail a day. Now it is 1-2. How will I ever know where the free dinner will be next week to discuss my retirement planning?!?
Posted 04/09/2020 10:03 AM
Larry Schug:
Kind of has a limerick feel to it. Yes it's so much easier to leave it all to survivors to deal with. It's all just stuff, anyway.
Posted 04/09/2020 09:01 AM