I unplug
Alexa
regularly
 
after learning
she could
record my every conversation
 
I taped over the camera
on my laptop
permanently
 
after learning
it could
follow my every movement
 
I routinely note
my birthday
as April 1st
 
on my Facebook page
and all my
social media
 
I love getting all
those fake
birthday wishes
 
writing back "April
Fools"
chuckling to myself
 
I change my
passwords
every three months
 
increasing the number
of digits
by three
 
and adding more uppercase
symbols
every time
 
I put my browser
on VPN
though certain web sites
 
won't let me in now
because
they can't recognize me
 
I asked some
squirrels
busying acorns
 
in my yard
one
summer morning
 
if they had been noticing
any
suspicious activities nearby
 
one looked at me
quizzically
bushy white tail
 
curled upward toward
that clear blue
late summer sky
 
explaining
in that chattering
squirrelly voice
 
we only gather up
nuts
we don't talk to them


© by Randy Mazie.
Used with the author's permission.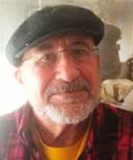 Randy Mazie grew up in New York City, lived in South Florida, and has now moved to the North Georgia mountains. He has Master's Degrees in Social Work from Columbia University and Business Administration from Barry University. His non-fiction work has been published in professional journals, and his poetry has most recently appeared in The Spirit It Travels: An Anthology of Transcendent Poetry (Cosmographia Books, 2019). Randy blogs occasionally at www.thewritersvillage.wordpress.com.
mail@schoolbusmart.com:
Thanks to all. Glad you enjoyed it. I had fun writing it. Randy
Posted 04/16/2020 09:50 PM
Maren O. Mitchell:
Randy, how this poem hits home. Hide all you can! Our species IS nuts! Thanks again, Maren
Posted 04/16/2020 08:24 PM
nancilee:
Very clever. And entertaining. Made me laugh.
Posted 04/16/2020 07:20 PM
paradea:
Love it!!
Posted 04/16/2020 03:54 PM
barbsteff:
Lots of fun, badly needed humor!
Posted 04/16/2020 03:50 PM
Linda Lee Konichek:
This is such fun! A lighthearted poem to brighten the day.
Posted 04/16/2020 02:05 PM
Anastasia:
I think the squirrels in your yard have been talking with the ones in our yard! Thank you for such a fun poem!
Posted 04/16/2020 02:05 PM
Wilda Morris:
I needed this laugh! Thanks!
Posted 04/16/2020 11:47 AM
Ronaccount:
Fun and funny poem. Short lines are like squirrel talk.
Posted 04/16/2020 09:54 AM
KevinArnold:
Oh, fun!
Posted 04/16/2020 09:20 AM
michael escoubas:
Great fun, Randy! Just what is needed in these times--thank you.
Posted 04/16/2020 09:09 AM
cork:
Love the humor!
Posted 04/16/2020 09:08 AM
Larry Schug:
I've never met Alexa and don't think I want to and now I wonder who's watching me write this comment. Give me a squirrel any day. This is my kind of poem.
Posted 04/16/2020 07:57 AM
SAR2126:
Very fun, just what I needed this morning. Thanks.
Posted 04/16/2020 07:27 AM