The loons arenít willing subjects
and folks who dare to try
to photograph these creatures
will find they donít comply,
†
for acts of disappearance
are made with style and ease:
they dive beneath the water
and do not care to please.
†
Youíll watch for one to surface
but donít expect to find
itís where your cameraís pointed,
the loon can read your mind.


This poem first appeared in Plum Tree Tavern.
Used here with permission.
†
†
Phil Huffy had a long career "doing something else," but then he moved on, finding his voice and achieving publication of dozens of poems on many subjects. When not furiously writing at his kitchen table in Rochester, New York, he enjoys hiking, camping, and cycling. Phil's books include two poetry collections, All Good and I'm Not Going Swimming, from the Origami Poems Project, and Rhymal Therapy, a collection of "tasteful limericks for discerning readers."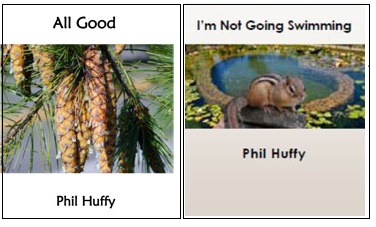 barbsteff:
Loons are among my favorite people. Good job, Phil.
Posted 04/20/2020 04:09 PM
Wilda Morris:
A fun poem! Thanks!
Posted 04/19/2020 09:10 AM
michael escoubas:
Who says that "Loons" are crazy? They seem pretty smart to me!! Nice job Phil.
Posted 04/19/2020 08:49 AM
mail@schoolbusmart.com:
Sort of like loony tunes for photographers. Thanks, Phil. Randy
Posted 04/19/2020 07:40 AM