As is her daily habit
my Roomba dutifully began
her rounds this morning
in a random search to sate
her humble appetite
with crumbs from last night
that even the dog left behind –
a meal I'd long believed
she was humbly grateful for –
her manna from the gods
 
Because the spring air
was so inviting
I had left the door ajar
before leaving Rosie –
as she is named –
to her morning rounds
 
After a cup of coffee or two
I noticed that I no longer heard
Rosie's familiar hum –
a tune I long took as her
taking pleasure at her daily task
 
Figuring she had lost her way
beneath the sofa I signaled
her home with the remote
but there was no reply
 
Rising to shut the door
I caught sight of her
tooling down the street
freewheeling her way
To freedom
 
Watching her pace away
I began to wonder
whether she wished
to escape her drudgery
or perhaps to clean
the mess we have made
of this once upon a world
that once took care of itself
 
After watching her
turn the corner and
disappear from view
I realized that
whatever her choice
she probably knew
better than me
what was best
and so I closed the door


© by Randy Cadenhead.
Used with the author's permission.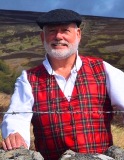 Randy Cadenhead is the author of four books, the most recent being The Funny Thing About a Poem. Although he teaches at Emory Law School, you are more likely to find him sailing somewhere in search of the perfect sunset. Randy lives in Decatur, Georgia; learn more about him at www.randycadenhead.com.
Jo:
What a clever poem and the humor is wonderful. Good to read today.
Posted 04/20/2020 07:27 PM
Anastasia:
Clever, and also a bit sad. However, your friend is off to new adventures, so you can be happy for her!
Posted 04/20/2020 07:03 PM
Maren O. Mitchell:
Thanks for the chuckle! 2 thumbs up for freedom! Maren
Posted 04/20/2020 02:03 PM
Jean Colonomos-1:
"...freewheeling her way/ To freedom..." Rosie, if you're in Chicago, say hello to my family...
Posted 04/20/2020 01:20 PM
KevinArnold:
Starting with a shape made for our time, robust creativity clear to the surprise-but-inevitable end.
Posted 04/20/2020 09:43 AM
paradea:
I love this poem!! So clever and heartbreaking in a weird kind of way!!!
Posted 04/20/2020 09:27 AM
mail@schoolbusmart.com:
Loved it. We need more Rosies in the world to make the world more rosy. Thank you Randy, from Randy Mazie.
Posted 04/20/2020 09:18 AM
jeeger:
What a novel idea and such a poetic way of stating it! Love it!
Posted 04/20/2020 09:00 AM
michael escoubas:
Like "freewheeling her way/to freedom." Most of us would like to do that, but can't!! Well done, Randy.
Posted 04/20/2020 08:56 AM
Wilda Morris:
Excellent poem - great combination of the serious and humorous, realistic and something a bit beyond actual possibility. Thought provoking. Thank you, Randy.
Posted 04/19/2020 09:13 AM
Larry Schug:
We need an army of rumbas to clean up this beautiful world that we've trashed. Oh wait-we have one. It's us. Humor often speaks loudest.
Posted 04/18/2020 08:03 AM