After "The Sheltered Path," by Claude Monet, painted in 1873.

Who doesn't need a moment
to be with himself? Who
doesn't need a place where only
he can go, that only he knows?

How sweet this morning air
fragranced by the lilac bush
and honeysuckle tree. And then
there is the distant blue beyond

the tree line you're walking toward.
There is something about this place
and the freedom felt in open air.
You left the clamor of the city

with its smells of horse and coal,
with its irreverent shouts of go
faster, do more, give your soul
for tomorrow's forgotten success.

You've chosen the better path.
Your shoes collect dust but find
their way to life in open air
in a place where only you can go.


From Monet in Poetry and Paint (Blurb, 2018).
Used here with permission.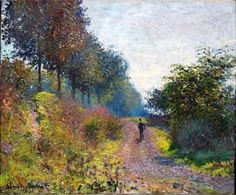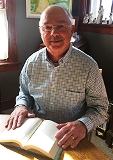 Michael began writing poetry for publication in August of 2013, after retiring from a 48-year-career in the printing industry. He writes poetry because, early in life, his mother encouraged him. Michael also writes poetry because he believes poetry brings people together and that poets are menders of broken things. Michael is the author of three collections--Light Comes Softly, Monet in Poetry and Paint. and his most recent, Steve Henderson in Poetry and Paint.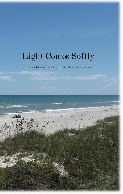 Lori Levy:
Soothing to read this poem.
Posted 04/30/2020 11:46 PM
Jo:
Love this poem and where it takes me. Thank you, Michael
Posted 04/30/2020 11:24 PM
michael escoubas:
Thanks to all who shared comments! Quite encouraging.
Posted 04/30/2020 11:07 PM
Wilda Morris:
A beautiful poem, Michael. Yes, "the better path."
Posted 04/30/2020 10:59 PM
Arlene Gay Levine:
Michael, you indeed "have chosen the better path" and it shines through your words in this moving poem.
Posted 04/30/2020 09:01 PM
Tracers645:
I agree, Michael.
Posted 04/30/2020 02:10 PM
Anastasia:
Such lovely and comforting words. Thank you!
Posted 04/30/2020 02:04 PM
bettiebill:
Nice to see this piece, Mike. One of many wonderful poems in Monet
Posted 04/30/2020 12:36 PM
peggy.turnbull:
I'm so pleased to smell the lilac and honeysuckle this morning.
Posted 04/30/2020 10:56 AM
Ronaccount:
Wonderful ekphrastic. I felt I was in the painting and especially liked ?smell if horses and coal.?
Posted 04/30/2020 09:54 AM
cscoville:
"go faster, do more, give your soul for tomorrow?s forgotten success" are such true and and indicting lines that I want to keep in mind long after this pandemic has passed.
Posted 04/30/2020 09:43 AM
cork:
I used to walk alone, but now my neighbor wants my company. Is there a song "I walk alone"?
Posted 04/30/2020 09:37 AM
mail@schoolbusmart.com:
We all need our places where only we can go. Nice poem. Randy
Posted 04/30/2020 08:58 AM
Jccjccac@aol.com:
You words remind me of my morning walks. I live on a ranch with lots of hidden and inspirational places to wonder. You?ve put these places into words
Posted 04/30/2020 07:50 AM
Larry Schug:
I think you're going to be joined by many today, all seeking to go to the wonderful place portrayed inside this poem and painting. Ironically, so many are eager to return to the days of "go faster, do more" during this strange April we've all experienced. A very thought-provoking poem, indeed.
Posted 04/30/2020 06:59 AM
Reborn:
So Beautiful. I long for an early morning walk, but it has been banned for us during the past month of Lockdown in South Africa. But now my hear was set free to take a walk this morning, to a place where only it could go. Thank you for the poem and the refreshement it gave to my heart.
Posted 04/30/2020 05:33 AM