The rains
brought you out,
no doubt.

I saw you there, tiny fellow,
struggling,
amidst the tall blades.

I picked you up,
which, probably,
I should have not
but I wanted to see you closer,
to give a kind word
and gentle touch.

Stock-still at first,
then, suddenly, you leaped
from my hand,
back into the grass.

Have a good life,
my little sentient friend!
© by Milt Machálek.
Used with the author's permission.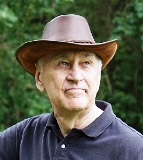 Milt Machálek started life as a Texas farm boy but ended up at Harvard, acquired a  PhD in nuclear physics, and embarked on a career in fusion energy research at Los Alamos and Princeton. Chapter Two was a career in international high-tech business involving Russia and Kazakhstan, and being CEO of a domestic high-tech company. For the past two decades, though, Milt has identified as a metal sculptor and poet. He lives in Lititz, Pennsylvania, which he declares as the "coolest small town in America."
Wilda Morris:
I can see you with that little toad in your hand, and catch the vibrations of your love for nature, especially small creatures.
Posted 05/13/2020 11:14 PM
Jo:
such gentleness and caring. I enjoyed the interaction between your little toad and you.
Posted 05/13/2020 10:39 PM
William Marr:
Hi, Milt, reading your poem and finding we have very similar backgrounds (I received my PhD in nuclear engineering from University of Wisconsin and retired early from Argonne to devote all my time and energy to poetry and painting/sculpting) is indeed a happy surprise. In recent years, I have been publishing regularly some of my poetry as well as translation of contemporary American poetry in a bimonthly poetry magazine in Taiwan. With your permission, I'd love to translate this poem into Chinese. BTW,you are welcome to visit my personal website "The Art World of William Marr" (http://marrfei.org)
Posted 05/13/2020 09:48 PM
Anastasia:
What a fun moment!
Posted 05/13/2020 08:51 PM
Linda Lee Konichek:
Wonderful image and mood-fun!
Posted 05/13/2020 07:21 PM
Lori Levy:
Beauty in the simplicity of this poem.
Posted 05/13/2020 06:48 PM
barbsteff:
Haven't held a toad since my kds collected them, so mny years ago! Toads are good. This poem brings back happy memories. Thanks.
Posted 05/13/2020 05:04 PM
Sharon Waller Knutson:
Nice poem I can relate to since the Sonoran toads have been serenading us every evening. The blessings of nature in these trying times
Posted 05/13/2020 10:06 AM
Jancan:
Delightful poem. Janice
Posted 05/13/2020 09:56 AM
KevinArnold:
Fun.
Posted 05/13/2020 09:30 AM
Ronaccount:
The simple rhyme in the first tercet is a fun entry to this cool poem about a random relationship with nature.
Posted 05/13/2020 09:11 AM
michael escoubas:
Nice going Milt, essence of life captured beautifully!
Posted 05/13/2020 08:54 AM
Larry Schug:
A small moment grows large in a poem.
Posted 05/13/2020 07:10 AM