Frogs respond from 3 miles
deer bolt away in terror
I sneeze in the woods


© by Edward Ferri, Jr.
Used with the author's permission.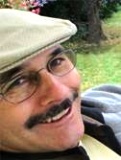 Edward Ferri, Jr. grew up on a farm near California's Santa Cruz Mountains. After traveling North America by himself on a motorcycle and living in upstate New York for several years, he eventually returned to California. Edward's work has been widely published in print and online journals and those years on the road are chronicled in his book, Glassy Air: Poems Kindled in the Long Shadow of a Lone Motorcycle, published in May, 2018.
Jancan:
With the virus still spreading, a sneeze will scare away people fast--for sure. Good, descriptive poem.
Posted 05/24/2020 06:52 PM
barbsteff:
Ha ha! I love the extended spelling of "achoo." I can hear you and my husband achooing away.
Posted 05/24/2020 02:55 PM
Janet Leahy:
I've heard you in the next aisle when shopping at Sendik's grocery store, and on the Amtrak train to Chicago, in the quiet car, you were there and you were not quiet, but the reason was the season. Thanks for your poem Edward.
Posted 05/22/2020 01:46 PM
Sharon Waller Knutson:
Funny. Laughing in-between sneezes and blowing my nose.
Posted 05/22/2020 09:51 AM
peggy.turnbull:
Oh yes! Beware the spring hiker!
Posted 05/22/2020 09:20 AM
michael escoubas:
Were you wearing a mask, Ed?
Posted 05/22/2020 09:04 AM
mail@schoolbusmart.com:
Oh boy, get out the way!
Posted 05/22/2020 08:12 AM