We're still here, pale as eggshell. Banished
to storage cabinets beneath instruction
manuals for vacuums and Nintendos
or forgotten in manila envelopes on top
of bookshelves. We demand fair play. Put down
smartphones and reach years back for your—
or your parents'—paper dolls. Feel our lithe

card-stock bodies. No batteries needed—no apps.
We ache for you to fold the tabs of our clothes
over our slim anatomies. Please drape me
in my blue dress and white apron, my shriveled
husband with twill sports coat and red tie.
Invent a domestic scene where we talk
and have tea. Walk us across the living room rug

as if it were a grand park. Open a Sears catalog
and cut out new clothes. We want colorful slacks,
purses; shorts, and tees for our lean children.
Cut out elephants from National Geographic
for us to ride. Draw a spaceship on a large sheet
of paper and place us aboard—we want to spread
our slender species across the universe.


© by Dennis Trujillo.
Used with the author's permission.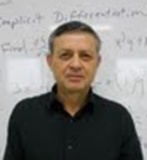 Dennis Trujillo, from Pueblo, Colorado, is a former U.S. Army soldier and a middle/high school math teacher who happens to love poetry. His first poetry collection was recently released from Future Cycle Press. Dennis currently resides in Korea and is employed at Shinhan University in the city of Dongducheon.  He runs and does yoga every morning for fun and focus.
Janet Leahy:
Yes, the memories are there, folding the tabs and creating stunning costumes. Love remembering the time when we didn't need batteries and apps.
Posted 05/21/2020 04:11 PM
Wilda Morris:
Love it! It brings back a lot of memories. I suspect there may be some paper dolls hiding somewhere in my house. The poem is so well written! Good descriptions. Good verbs. And a wonderful surprise at the end.
Posted 05/21/2020 12:44 PM
Ronaccount:
The adept mixing of nostalgic and contemporary images works soooooo well. Love it.
Posted 05/21/2020 11:14 AM
michael escoubas:
Truly a unique, experiential poem. All praise richly deserved. Thank you Dennis and Jayne.
Posted 05/21/2020 11:10 AM
paradea:
I agree with Larry Schug!!! Love this poem and the thoughts it conjures up...both real and imagined!
Posted 05/21/2020 09:47 AM
peninsulapoet:
Lovelovelove. Paper dolls! Yes!
Posted 05/21/2020 09:43 AM
SAR2126:
Beautiful poem. I don't have the dolls any more, but I have my 1963 Sears Wish Book.
Posted 05/21/2020 07:28 AM
Larry Schug:
Could be the basis for a good short story, a kind of creepy one. Great ending.
Posted 05/21/2020 06:31 AM