...let me paint a thank-you on my palm...
† † † † † † † † † † † † † † † † † † † † ~ Ann Sexton

This May morning as sunrise
turns my kitchen window to stained glass,
I paint thank-yous
on the palm of my hand,
†
thanks for the tulip that opened
red cups to receive sun and rain,
and for violets I transplanted from Grandmotherís,
now blooming in my yard,
†
gratitude that I donít have to rise
like Grandfather did on cool mornings
to stoke dying ashes in a coal furnace
to resurrect the fire that heated the house,
†
and for the spin cycle on the washer
that saves me from the task
of wringing water from skirts,
shirts, shorts, towels and sheets.
†
I paint thank-yous on my palm
for the mother I saw at Panera yesterday
breaking bread, giving more than half to her son,
reminding me of my motherís generosity,
†
for the tune my husband whistled
as he came down the stairs,
his hugs, and for the ďPicklesĒ cartoon
in the paper that makes us laugh.
†
All day, keep me from taking things for granted:
spring flowers, running water, indoor plumbing,
vacuum sweeper, phone calls from my daughters.
Keep me painting thank-yous on my palms.


© by Wilda Morris.
Used with the authorís permission.
†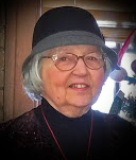 Wilda Morris is the mother of five, grandmother of fifteen and great-grandmother of seven. She learned to love poetry growing up in Iowa at the feet of her grandmother. Wilda has published two books of poetry, Szechwan Shrimp and Fortune Cookies: Poems from a Chinese Restaurant (RWG Press, 2008) and Pequod Poems: Gamming with Moby-Dick (Kelsay Books, 2019), and one nonfiction book. Wilma lives in the suburbs of Chicago, Illinois; learn more about her and enjoy a monthly poetry contest athttp://wildamorris.blogspot.com/..
Wilda Morris:
Thank you to the kind readers who responded - you gave me another reason to be thankful!
Posted 05/25/2020 12:22 PM
Arlene Gay Levine:
A lovely poetic remedy for what really matters...
Posted 05/24/2020 08:21 PM
Anastasia:
So many reasons to be thankful! A wonderful reminder. Thank you!
Posted 05/24/2020 04:36 PM
CamilleBalla:
Everyone should be able to relate to this nice poem. Thanks, Wendy, for including the spin cycle on the washer! That?s one thing I forget to include on my list. It?s good to be reminded of all the things we take for granted.
Posted 05/24/2020 03:42 PM
Lori Levy:
Beautiful poem of gratitude.
Posted 05/24/2020 03:10 PM
barbsteff:
Astute observations, Wilda. Very heartening. You'll never have a bad day with this attitude. I like the examples of things to be thankful for that you've chosen. Barb Germiat
Posted 05/24/2020 02:41 PM
Surprise Reading Teacher:
I love this poem. What a great way to show gratitude! I, too, laughed at the Pickles funny just this morning. How did you know?
Posted 05/24/2020 01:51 PM
Jo:
Being grateful changes everything doesn't it! Thank you for reminding us how much we have with this generous poem.
Posted 05/24/2020 12:14 PM
Jean Colonomos-1:
Yes.
Posted 05/24/2020 12:01 PM
peggy.turnbull:
I love how you weave Sexton's line into this at unpredictable places.
Posted 05/24/2020 11:52 AM
paradea:
Nice!!!
Posted 05/24/2020 10:15 AM
KevinArnold:
Yes, indoor plumbing is too often taken for granted.
Posted 05/24/2020 10:01 AM
michael escoubas:
The whole world is nodding "how true" to this poem, Wilda. Thank you.
Posted 05/24/2020 09:06 AM
pwax:
Lovely, Wilda, especially during this time of the pandemic. Phyllis
Posted 05/24/2020 08:16 AM
Sharon Waller Knutson:
Thank you Wilda. My favorite line is: sunrise turns my kitchen window to stained glass
Posted 05/24/2020 08:05 AM
Charly:
Wendy, how wonderful to read one of your poems. It reminds me of all the very good things in my own life. Such a powerful poem using the most every day things. Good hearing from you, Merle
Posted 05/24/2020 07:41 AM
mail@schoolbusmart.com:
Here is my note to you: thank you! Randy
Posted 05/24/2020 07:16 AM
Larry Schug:
Thank you for the excellent poetic reminder to be grateful,even for the dog panting in my face a 4:45 a.m. After all he wake me to read this fine reminder on how to begin the day.
Posted 05/24/2020 07:12 AM