White Cliffs of Heaven, rising from the sea
That's how I saw them from the ship
Before we sloughed through the waves
In the Higgins Boat, rank with the smell
Of vomit and fear; before the gate dropped
And German lead snuffed lives like so many lamps

Before we slogged through rose-colored surf
And up a littered beach to the tenored clanking
Of jacketed rounds playing the tank traps
And before I saw all hope leave that first young face
Bracketed by the iron sights of my Garand
A disbelief at his own mortality sparked in his eyes
And we became brothers in the fragile brevity of human flesh
As the butt stock thumped against my shoulder
Something cold and seductive brushed against my soul.

The roar of battle was that of some beast from Revelation
Turned loose on the world, spewing smoke and fire
Stumbling forward into madness and up those heights
I found myself amid the carnage and settling calm at the top

I expect the view had once been for lovers in moonlight
Or sunlit children, their laughter ringing against the sound of the sea
Now wreckage and random butchery of war held sway
Landing craft burned and smoldered against the leaden sea
Bodies, once containing the image of God,
Rocked gently in the surf, their uniforms torn and stained
Or lay among tank traps, or closer to those white cliffs
They did not reach.


This poem first appeared in Evening Street Review.
Used here with permission.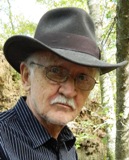 Robert Funderburk was born by coal oil lamplight in a farmhouse near Liberty, Mississippi. After receiving a B.A. in Sociology from Louisiana State University and serving in the U.S. Air Force, he worked as a parole officer for the Louisiana Welfare Department, where dealing with probation, arrests, and investigations provided inspiration for many novels (17 and counting) to come. Robert lives in Louisiana with his wife and daughter.
bobby:
BAMars: Thank you. Peace
Posted 08/24/2020 08:43 AM
bobby:
jayne: Your comment may be better than my poem. Thanks
Posted 08/24/2020 08:37 AM
bobby:
Chwood: You're welcome, sir.
Posted 08/24/2020 08:35 AM
bobby:
Janet Leahy: You're very welcome, Janet. Blessings and Peace
Posted 08/24/2020 08:33 AM
bobby:
cscoville: That's the way I see poetry also.
Posted 08/24/2020 08:31 AM
bobby:
Jo, Sometimes we forget war is not just stastics: KiA, MIA, etc
Posted 08/24/2020 08:26 AM
Jo:
An incredible poem and a hard poem to read but so important not to forget. Thank you Robert. Thank you Jayne.
Posted 05/26/2020 10:37 PM
cscoville:
This poem takes the reader on an incredible physical,emotional,and spiritual journey in four short stanzas. Once again, I am reminded of the amazing power of poetry.
Posted 05/26/2020 07:23 PM
Janet Leahy:
Perfect poem for today. Thank you for publishing this Jayne and thank you for writing this Robert.
Posted 05/25/2020 08:57 PM
Chwood:
This, as well as light upbeat poems, are the stuff life, and poems, are made of. Well done sir.
Posted 05/25/2020 08:55 PM
jayne:
Subscriber Eve Bennett has not been able to make a comment, so she asked me to post this for her: "Today's poem, is, in my opinion, one of the best crafted selections I've read on this site. The use of language is eloquent, though tragic, with its vivid descriptions about the fear and suffering of (young) soldiers, and I found myself visualizing the terrible scene which awaited these terrified men; how the poet spoke about the boats which approached the shore, with its "cargo" smelling of vomit and fear! My thoughts traveled today to the countless lives cut short by innumerable wars, and the enormity of those numbers stagger my mind! I agree with the comment left by another reader (that she would welcome other "serious", or somber poems).
Posted 05/25/2020 05:12 PM
BAMars:
Yes, I agree with the others. I'm grateful that you chose to post this today as much as I hesitated to read it. It rings so true, as close as I ever hope to get. The part njc referred to was so affecting. Thank you.
Posted 05/25/2020 04:40 PM
Maren O. Mitchell:
Thank you, Jayne. Thank you, Robert. We need to always remember reality.
Posted 05/25/2020 03:11 PM
barbsteff:
Thank you. This poem cuts through the smarm of civic celebrations that omit the "hard stuff."
Posted 05/25/2020 02:58 PM
Lori Levy:
Depressing, but excellent poem.
Posted 05/25/2020 02:27 PM
Wilda Morris:
Thank you for sharing this powerful poem. War is not a picnic or a beautiful display of fireworks against a night sky.
Posted 05/25/2020 12:21 PM
paradea:
More poems like this one, please Jayne!!! These images will stay with me forever!!
Posted 05/25/2020 12:18 PM
MLove:
A powerful meditation for today. Thank you.
Posted 05/25/2020 11:12 AM
peninsulapoet:
A memorable and appropriate poem. We can't pretend war is not slaughter.
Posted 05/25/2020 10:37 AM
SAR2126:
I am so glad you chose this poem -- whether dark or light, poetry is truth. This is a powerful and well written poem. Thank you.
Posted 05/25/2020 10:27 AM
peggy.turnbull:
Thank you for posting this powerful, beautiful poem, Jayne. Yes, it is hard to read, hard to dwell upon. Remembering the cost of war, "that of some beast from Revelation," is a human duty.
Posted 05/25/2020 10:23 AM
Cathy's Sister:
Such a realistic poem. Thank you for posting this Memorial Day. May we never forget.
Posted 05/25/2020 10:15 AM
KevinArnold:
Yes, ?The roar of battle was that of some beast from Revelation / Turned loose on the world, spewing smoke and fire.? As anti-war as Dylan?s and Baez?s ?With God on Our Side.? Courageous post.
Posted 05/25/2020 10:05 AM
njc:
"...and we became brothers...as the butt stock thumped against my shoulder..." Thank you for this poem.
Posted 05/25/2020 10:01 AM
finney@charter.net:
Contradiction makes for tension. Robert?s poem left me breathless this morning. Something so horribly tragic expressed with such eloquence. I am there, or as close as I can get. Now, the tears.
Posted 05/25/2020 09:08 AM
Jccjccac@aol.com:
Memorial Day is the perfect day for this poem. We can never forget. Thank you for reminding us.
Posted 05/25/2020 08:04 AM
jeeger:
Wow!
Posted 05/25/2020 07:11 AM
Larry Schug:
Sobering.
Posted 05/25/2020 07:08 AM
Simontw7:
Jayne, you did the right thing in posting. We should never forget. What we perhaps have forgotten though, is to teach the next generation of these tragedies of the past, so that they might never forget. The poem itself, brilliantly portrays the brutality of war.
Posted 05/25/2020 06:38 AM