I had a fight with a squirrel today;
such a ruckus in the trees!
I asked for quiet, graciously;
he just ignored my pleas

The leaves were shaking violently;
I stood and shook my fist.
Please come down so we may chat;
I really must insist.

Some understanding must be reached
so all may sit and play.
Birds, bunnies, gecko, butterfly
comprise our small soiree.

I pointed to the mess he'd made
by jumping through the air,
dumping all that's possible
upon my lap and chair.

He looked around and bowed his head.
I guess that you are right.
We think of you as family;
I do not want to fight.

At this, I had to stop and think,
then smiled at what I'd heard
and took my seat among the group
without another word.


© by Lynne Podrat.
Used with the author's permission.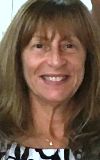 Lynne Podrat has secretly been a writer and poet her whole life, but has only recently chosen to share those talents with the world. A retired educator and administrator from the Philadelphia, Pennsylvania school district, she taught English, literature and composition. Lynne now lives with her husband in Palm Beach Gardens, Florida, where she enjoys playing with her two granddaughters and participating in competitive dragon boating (she qualified to try out for Team USA!).
Lori Levy:
Great first line, and I like the way it begins with a fight and ends in peace.
Posted 05/26/2020 02:20 PM
barbsteff:
Delightful. Squirrels are among the very few wildlife members if our yard, but I haven't had to negotiate with them so far. Skillful use of rhyme and form.
Posted 05/26/2020 12:50 PM
Ronaccount:
I love the little stories in the quatrains. What an adventure!
Posted 05/26/2020 12:05 PM
michael escoubas:
Lynne! You're much kinder to these little guys that I. Good poem. Good luck trying out for Team USA.
Posted 05/26/2020 10:51 AM
KevinArnold:
Squirrels are among my guilty pleasures. Fun poem.
Posted 05/26/2020 09:58 AM
SAR2126:
Lovely contrast to yesterday's Memorial Day poem -- poetry can do so many things!
Posted 05/26/2020 09:09 AM
mail@schoolbusmart.com:
Very cute. Smooth rhyming. Fun to read. Randy
Posted 05/26/2020 07:50 AM
Larry Schug:
If ya can't beat 'em, join 'em, eh?
Posted 05/26/2020 07:05 AM