May this day
be a bead on a necklace
of spring
One in a string
of beautiful beads
that adorn you
now that you've shed
the wool
in which you've wrapped yourself
through a winter so long.

May this day
be a reminder
that every time the earth
dances around the sun
your life becomes more precious,
that inside your house
those who love you
know this
about you and themselves,
celebrate this day
with you
as the sun wraps its arms
around all of you.

May this day
be a poem,
the first you've ever written,
the poem you've always wanted to write
in gratitude for the gift of joy
you cannot contain.
You're bursting like leaf buds on aspen trees
just because you're breathing,
your heart is beating,
the sun is shining,
the first tree frogs of spring are singing
and within your home
there is someone who loves you.


© by Larry Schug.
Used here with the author's permission.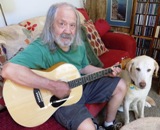 Larry Schug is retired after a life of various kinds of physical labor and currently occupies his time by volunteering as a writing tutor at the College of St. Benedict/St. John's University writing centers and as a naturalist at Outdoor U. He's also learning to play a cigar box guitar and is branching into putting music to words. Larry has published eight books of poems and lives with his wife, dog, and two cats near a large tamarack bog in St. Wendel Township, Minnesota.
Bobby:
Gratitude for the blessings of a common, glorious day, as all days should be. Thanks, Larry
Posted 06/01/2020 04:16 PM
Bobby:
One day's gratitude for common, glorious blessings, as every day should be. Thanks, Larry
Posted 06/01/2020 04:15 PM
Anastasia:
This is wonderful, and very much needed today. Thank you, Larry!
Posted 05/31/2020 09:48 PM
pwax:
Ah, yes, that all in our country could move from the way things are to the hopes expressed in your lovely poem.
Posted 05/31/2020 02:12 PM
Jean Colonomos-1:
Thanks for this loving poem.
Posted 05/31/2020 11:54 AM
Sharon Waller Knutson:
Thank you Larry for a beautiful poem to close out the month of May. Loved the uplifting message and the metaphors. My favorite lines are: "May this day be a bead on a necklace of spring" and "bursting like leaf buds on Aspen trees."
Posted 05/31/2020 11:04 AM
SAR2126:
Exactly what words should do -- uplift. Thank you.
Posted 05/31/2020 09:33 AM
cork:
I glanced out my window at the aspen leaves and thought of my black grandchildren.
Posted 05/31/2020 09:27 AM
Jancan:
What a beautiful, WONDERFUL, inspirational poem! Effective blend of literal and figurative language
Posted 05/31/2020 09:22 AM
michael escoubas:
Thank you Larry--timely commentary on what is happening in your home state and across the country. Your poem contributes, in my opinion, to the much needed healing process in our country.
Posted 05/31/2020 08:49 AM
Larry Schug:
Note from Larry Schug: Of course, I realize that my white privilege allows me such sentiments. Only seventy miles away people might write "May this day no one kneel on your neck and steal the breath of life from you". Let's all try to make the world described in my poem possible for everyone.
Posted 05/31/2020 08:28 AM
mail@schoolbusmart.com:
So much to be grateful for on this last, ironically, of May - this day. Randy
Posted 05/31/2020 07:55 AM
Jccjccac@aol.com:
A great way to start the day- with gratitude. Your words remind me to share and enjoy it.
Posted 05/31/2020 07:33 AM
marsha:
Thank you, Larry, for such a wonderful gift on a day I really needed one. Marsha Foss
Posted 05/31/2020 06:37 AM