we wondered if the Shirelles
would still love us tomorrow
whether Del Shannon
would really run away
and all the time
Mr Norwood was labouring the point
about quadratic equations
chalking up his frustration on the board
because he knew
that none of us could give a monkey's
being far more interested
in girls, girls, girls
music, music, music
eight days a week.


© by Neil Leadbeater.
Used with the author's permission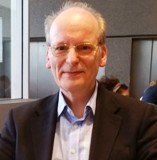 Neil Leadbeater began writing poetry after a 33-year career working for the National Health Service in England, and then in Scotland. He says he writes poetry "in celebration of the amazing world in which we live" and because he believes it can be a positive power for good. Author of nearly a dozen books, his work is widely published, anthologized, and translated. Neil enjoys languages, music, gardening, walking, art, and anything to do with the natural world. He lives in Edinburgh, Scotland; learn more about Neil here.

Bobby:
I got to buy some bellbottoms.
Posted 06/22/2020 06:21 AM
Lori Levy:
Great! "Eight days a week" says it all.
Posted 06/03/2020 02:49 PM
Jo:
It is an amazing world we live in. Terrific seeing your poem here today. What a different time, Neil.
Posted 06/03/2020 11:30 AM
Mariah:
I bet girls loved you yeah yeah yeah. Love this poem, Neil.
Posted 06/03/2020 10:31 AM
Ron Stewart:
The Anthem of the Sixties Peace Love Freedom Happiness Thank you Neil
Posted 06/03/2020 09:43 AM
KevinArnold:
Fun, especially for those of that time. Well crafted.
Posted 06/03/2020 08:36 AM
Larry Schug:
Ain't that the truth!
Posted 06/03/2020 08:06 AM
michael escoubas:
I lived this Neal! Well done.
Posted 06/03/2020 08:05 AM