Iím in love with the orphaned baby emu
the one that doesnít know itís not a dog,
the one that throws itself down
onto the carpet and rolls
onto its back for a belly rub
at the black dogís approach,
then jumps up and dances
on its long, bony bird legs,
flapping its tiny flightless wings.
†
Perhaps youíve seen these videos onlineó
the ones that show the unlikely and charming
animal friendships that sometimes arise:
cats riding on the backs of ponies,
a yellow lab comforting a lonesome horse
new to its rescued life.
†
I could lose myself for hours, wandering
from one animal video to the next,
but the emu draws me back
again and again, with its total
surrender to love. See how it ignores†
the coaxing of its caretakers,
how it focuses upon its beloved.
The emu rolls and rises to dance and twirl,
a long-legged striped Sufi dervish,
given over to its ecstasy, blessed
to live in a world without mirrors.


© by Pat Hale.
Used with the authorís permission
†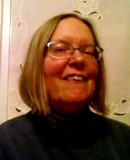 Pat Hale lives in Connecticut where, lately, she's spending lots of time at home (courtesy of the pandemic) watching the squirrels and rabbits outside her windows, and discovering the wealth of animal videos online. Pat is the author of a poetry collection, Seeing Them with My Eyes Closed, and a chapbook, Composition and Flight.
BAMars:
This is almost as charming as the video must be. To surrender to the love of a dog is so much easier than human interaction.
Posted 06/04/2020 04:22 PM
Lori Levy:
Great portrayal of this emu.
Posted 06/04/2020 03:39 PM
Tracers645:
Great imagery.
Posted 06/04/2020 03:33 PM
KevinArnold:
Wonderful poem; an unexpected subject of a love poem.
Posted 06/04/2020 03:17 PM
Anastasia:
The emu is so adorable! Which is not usually a word associated with a modern-day dinosaur.
Posted 06/04/2020 01:56 PM
barbsteff:
Having spent too much time watching "Furry Friends" on Saturday morning TV, I appreciate this, especially the rolling for belly rubs! Thanks.
Posted 06/04/2020 01:10 PM
cork:
I will be thinking about the mirrors.
Posted 06/04/2020 09:20 AM
Ronaccount:
Eloquently hilarious. I love the alliteration and the ending.
Posted 06/04/2020 08:57 AM
paradea:
Awwwww.
Posted 06/04/2020 08:55 AM
Sharon Waller Knutson:
I loved the alliteration "coaxing of its caretakers" and metaphor "a long-legged striped Sufi dervish." I watch animal videos so I can relate but I couldn't get the video of the baby emu and the black dog to come up on my computer.
Posted 06/04/2020 08:40 AM
michael escoubas:
Much needed wisdom in this winsome poem. Thank you Pat!!
Posted 06/04/2020 08:37 AM
Larry Schug:
The poem's last line says so much to all of us.
Posted 06/04/2020 07:14 AM
Jccjccac@aol.com:
I?m going to have to look for that video. Animal antic are fascinating. Thanks for sharing.
Posted 06/04/2020 07:00 AM