When did we become aware of the moon?
We must have had it pointed out as kids,
our parents drinking in metal patio chairs,
calling us over, pointing upward, and saying,
"Look! Look at that!", their attention and wonder
more remarkable to us than the object itself.
But when did we too begin to be moved?
And when did we begin trying to get others
to notice the moon phasing across the dark
or day sky, now as a wafer, now a scythe?
We shift from buttoning our clothes to being
startled into awe by the workings around us.
"Look!" we say, temporarily illuminated,
our children disconcerted by our marveling.


This poem previously appeared in Postcard Poems and Prose Magazine.
Used here with permission.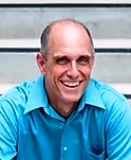 Joseph Mills teaches at the University of North Carolina School of the Arts. He is currently walking his dog a great deal. Joe has published six collections of poetry and is working on a seventh, about dance.. Last year, he published his debut collection of fiction, Bleachers: 54 Linked Fictions. Learn more about Joe at www.josephrobertmills.com.
Jancan:
An appealing and meaningful poetic commentary encouraging the older generations to pass along a sense of appreciation for nature to the younger ones!
Posted 06/06/2020 09:02 AM
Lori Levy:
Perfect title for a poem that reflects on so many things.
Posted 06/05/2020 03:00 PM
barbsteff:
"We shift from buttoning our clothes to being startled into awe by the workings around us." Wonderful!
Posted 06/05/2020 01:27 PM
KevinArnold:
Yes, this poem is working at many levels, including subtle differences between children and adults.
Posted 06/05/2020 12:34 PM
Jean Colonomos-1:
In summers as a child, my bed was next to a window. I'd stare and fall asleep to it, a lullaby I could rely on.
Posted 06/05/2020 10:50 AM
cork:
Waxing or waning--my right and left curved hands.
Posted 06/05/2020 09:14 AM
Larry Schug:
I love poems, such as this poem, that ask questions that only the reader or listener can answer.
Posted 06/05/2020 08:11 AM
bobbi43sml@aol.com:
Absolutely love this poem. It brings back my young child arguments with my dad riding the winding roads of Maine. I would insist that the moon had moved, and dad would oh so patiently try to convince me that it did not. I was not convinced.
Posted 06/05/2020 08:10 AM