Thereís a place in the woods that only I know--
A place in the wood where I can go
When Iím tired or worried or down in the dumps
When I feel that Iím getting most all of the bumps.
Itís so quiet that when I am there, I forget
All my troubles and worries and cares, and I let
The whole world go right by me and not even see
That Iím hiding there from it and trying to be
As quiet, as quiet as ever I can
So I wonít break the quiet unbroken by man.
His planes and his trains and his cars and fast pace
Have never been heard of, in my quiet place.
†
© by Bobbi Martino.
Used with the authorís permission.
†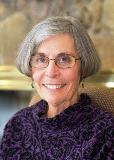 Bobbi Martino grew up in rural Maine, with plenty of woods to wander. Daughter and granddaughter of gifted gardeners, she is a lifelong lover of nature in general and trees, flowers, and the ocean, in particular. A retired nurse and mother of three, Bobbi spends her time these days in or near the oceanóas often as is possibleóin Plymouth, Massachusetts. She enjoys sewing, flowerpot gardening, reading, and writing rhymes for her five grandchildren.
†
†
Jo:
I?d like to spend some time there and to think you wrote about this special place already at 12. Thanks so much Bobbi.
Posted 06/08/2020 10:33 PM
Lori Levy:
The quiet place sounds great!
Posted 06/08/2020 09:30 PM
Anastasia:
Thank you for sharing this moment of quiet?so very important, especially now.
Posted 06/08/2020 04:23 PM
ghctenmile@earthlink.net:
here's to you and to your life in poetry--thanks for sharing with all of us.
Posted 06/08/2020 03:23 PM
Brenda:
I really loved this poem and thank you for allowing it to be shared.
Posted 06/08/2020 02:36 PM
joecot:
Thank you, Bobbi, for taking me to a quiet place this morning. I think I'll linger a while.
Posted 06/08/2020 01:58 PM
jmilfordtv:
Your poem reminds me and all how important it is to have a quiet place in our lives. Thank You
Posted 06/08/2020 01:21 PM
Jean Colonomos-1:
A special reminder of a special place. Thanks to your twelve year old self that's inside you.
Posted 06/08/2020 12:29 PM
Jane Dawson:
My grandmother rocks
Posted 06/08/2020 12:19 PM
3CatsintheHouse:
Great first byline. I want to go to that place right now. Thanks.
Posted 06/08/2020 11:49 AM
peggy.turnbull:
It is wonderful to have such a place. Thank you for reminding me to keep in touch with mine.
Posted 06/08/2020 11:12 AM
peninsulapoet:
Lovely!
Posted 06/08/2020 10:17 AM
michael escoubas:
Congratulations Bobbi on your first byline and hopefully many more to come. Nicely done!
Posted 06/08/2020 09:58 AM
paradea:
What lucky grandchildren!!!
Posted 06/08/2020 09:51 AM
Larry Schug:
Hopefully we can all find such a place either inside or outside of ourselves-or both. Your words create a small haven for all who read them.
Posted 06/08/2020 09:04 AM
Ronaccount:
Look what a twelve-year-old can do! She totally tells her secret. I like the line breaks lines 5 and 6. The time period markers, MAN and HIS, in the last three lines, prove the poem?s vintage.
Posted 06/08/2020 09:01 AM
SAR2126:
What a lovely poem. So glad it was finally shared so others can enjoy it.
Posted 06/08/2020 08:19 AM
Charly:
HAHAHA. Don't you love that autotype? I meant to text. I LOVE IT!
Posted 06/08/2020 08:18 AM
Charly:
I love I Think!
Posted 06/08/2020 08:15 AM
mail@schoolbusmart.com:
😊
Posted 06/08/2020 06:22 AM