With her purse on his lap,
he waits in the lobby.
The fake leather chair
does not fit his back.

Every pair of eyes
scans a small screen;
each pair of thumbs
does the Quickstep.

Forcing his glance away
from the clock on the wall,
he squints at the squares
of his unsolved Sudoku.

Then she strides out,
fingers spread in a V.
A waiting patient smiles,
offers silent congratulations.

May you be just as lucky, she says,
touching the woman's shoulder.
They've never met before
and won't see each other again.

Her husband hands over her purse.
They link arms and leave, picking up
their life where they left it
when she received the call-back.


© by Johanna DeMay.
Used with the author's permission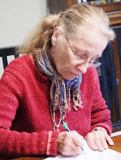 Johanna DeMay grew up in Mexico City, then moved to the United States as an adult. She began writing stories in the sixth grade but, by the age of fifteen, zeroed in on poetry as her genre of choice. She spent forty years as a self-employed studio artist in Albuquerque, New Mexico and now, in retirement, divides her time there between writing and volunteer work with the immigrant community. An enthusiastic hiker and cyclist, Johanna spends as much time as possible outdoors. When forced to stay inside, she can usually be found at her desk or reading in her favorite rocking chair.
Lori Levy:
Powerful in its understatement.
Posted 06/07/2020 10:17 PM
Janet Leahy:
That clock on the wall so important in matters of health. So many good details in this poem. Thank you Johanna
Posted 06/07/2020 04:55 PM
Sharon Waller Knutson:
This powerful poem is so well written. The images are so descriptive it's like we are watching a video of patients in a doctor's waiting room. Very appropriate for National Cancer Survivor's Day.
Posted 06/07/2020 03:28 PM
joecot:
May we all be just as lucky. Thanks for a touching poem.
Posted 06/07/2020 02:28 PM
KevinArnold:
Beautifully understated, quiet.
Posted 06/07/2020 10:55 AM
paradea:
Relief to the nth degree!! Fantastic!! I love the first line, also!!
Posted 06/07/2020 10:36 AM
Jean Colonomos-1:
Thank you. I've been there too.
Posted 06/07/2020 09:57 AM
cork:
Me toca.
Posted 06/07/2020 09:30 AM
Ronaccount:
With HER purse on HIS lap. What a marvelous first line.
Posted 06/07/2020 09:08 AM
Larry Schug:
A moment found like a bird's feather on the lawn.
Posted 06/07/2020 06:52 AM