Trees grow craggy and cranky, says Noah.
One old oak grows sideways
so you can walk the trunk
and we do, Noah and me,
we walk up the tree and down again
balancing with our arms stretched out
like airplanes
which is cool if you're four
or seventy-four.

Noah decides to tour the drinking fountains
of Flood Park and why not, this fine day
so we run with wings outspread
a circuit of twenty acres, sampling.
Most are built of concrete, some of shiny steel,
most in sun where the water comes hot,
some under trees where the acorns fall.
One dribbles a bath for birds,
one blasts your nose.
Most of them paired – one high and one low
for the thirsty, for the curious,
for the very young or very old
with so much to discover.

This poem first appeared in Birdland.
Used here with permission.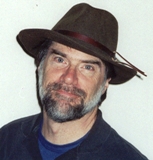 Joe Cottonwood is a semi-retired contractor with a lifetime of small jobs repairing homes. He lives with his high school sweetheart under redwoods in the Santa Cruz Mountains of California caring for curly-haired dogs and straight-haired grandchildren. His latest book is Foggy Dog: Poems of the Pacific Coast. Learn more at www.joecottonwood.com.
jim bourey:
Fine poem Joe. Your observations and insights never fail.
Posted 07/19/2020 10:49 AM
Jancan:
Delightful--nostalgia at its best!
Posted 06/29/2020 06:33 PM
BAMars:
What a sweet experience to share with a grandchild, and I can almost taste each taste of water.
Posted 06/27/2020 12:40 AM
barbsteff:
Intriguing poem, delightful scene. Is the surname Cottonwood for real on a poem about trees? Or do you write about trees because of your name?
Posted 06/26/2020 06:05 PM
Lori Levy:
I agree with Sharon. I am also an admirer of Joe Cottonwood's poems. This is like a painting. Beautiful.
Posted 06/26/2020 04:15 PM
Anastasia:
What a delightful way to spend an afternoon!
Posted 06/26/2020 03:34 PM
Larry Schug:
Discovery and insight are available when seeing through another's eyes and when keeping our own eyes open to new sights.
Posted 06/26/2020 12:31 PM
Sharon Waller Knutson:
I love all of Joe Cottonwood's poems and this is no exception. My favorite line is trees are craggy and cranky. Could describe us grandparents too.
Posted 06/26/2020 09:16 AM
Sarah Russell:
Another great one, Joe. I was there with you, arms out and swooping along.
Posted 06/26/2020 09:02 AM
michael escoubas:
Wonderful piece Joe, showing through well-drawn lines, an experiential "video" with you and Noah enjoying time together. Bravo!!
Posted 06/26/2020 09:00 AM