To say that your smile
lights up the whole garden
is of course an exaggeration
 
but I did indeed see
a flower bloom
at your approach

 
From Between Heaven and Earth (PublishAmerica, 2010);
Little Eagle's RE/VERSE (2012); Poems of  the World (2017);
Chicago Serenade (The Cultural Institute of Solenzara, Paris 2015).
Used here with permission.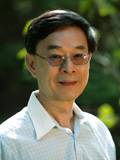 William Marr came to America from Taiwan in 1961. After receiving his master's degree in mechanical engineering and his PhD degree in nuclear engineering, he worked in the area of energy research at Argonne National Laboratory in Chicago for 27 years before retiring in 1996 to focus on his true passions — poetry and art. A former president of the Illinois State Poetry Society, William has published two books of essays, several books of poetry translations, and 23 volumes of poetry. His poetry has been translated into more than ten languages and appears in high school and college textbooks in Taiwan, China, England, and Germany. In 2018, William received the lifetime achievement award from the International Board of Examiners of Edizioni Universum and the Albert Nelson Marquis Lifetime Achievement Award from the Marquis Who's Who Publications Board. In 2019, he received the 60th Literary Award from Taiwan's Chinese Literature and Art Association. William lives with his wife, Jane, in a suburb of Chicago, Illinois. Learn more about him here.
William Marr:
Thank you all for your kind and encouraging words. Knowing my poem has been blooming on so many happy faces is the best reward I can ever expect.
Posted 07/02/2020 08:59 AM
Lori Levy:
Short and simple, but beautiful.
Posted 07/01/2020 07:48 PM
BAMars:
Perfection
Posted 07/01/2020 06:08 PM
cscoville:
What a joy!
Posted 07/01/2020 05:59 PM
Maren O. Mitchell:
Your poem blossoms with beauty. Thank you!
Posted 07/01/2020 03:52 PM
bobby:
Years of emotion packed into a few simple words. Thanks for coming to America.
Posted 07/01/2020 03:45 PM
peggy.turnbull:
Reading this made me bloom,too.
Posted 07/01/2020 12:24 PM
michael escoubas:
Another triumph of brevity and truth, Mr. Marr. Thank you.
Posted 07/01/2020 11:45 AM
DavidTookey:
Exceptional!
Posted 07/01/2020 11:40 AM
paradea:
Love it!!!
Posted 07/01/2020 10:52 AM
Jean Colonomos-1:
A perfect flower of a poem. Thanks for the bloom.
Posted 07/01/2020 09:35 AM
richard.cary@att.net:
This is poetry at its cleanest and finest.
Posted 07/01/2020 09:04 AM
cork:
Economical
Posted 07/01/2020 09:02 AM
mail@schoolbusmart.com:
The irony of exaggerated perspective is indeed not lost on a smiling reader. Thank you, Randy
Posted 07/01/2020 08:21 AM
MatthewMiller:
Lovely. I love simple poems like this. They are like jewels.
Posted 07/01/2020 07:57 AM
KevinArnold:
What great fun. The word ?indeed? makes this poem.
Posted 07/01/2020 07:49 AM