Ears laid back.
Rigid legs shiver with rage.
Mad whines split the air.
Nose pressed against glass.

Twitching nose.
Swishing brown tail.
Feet clutch top of wood fence
ready to sprint.

Door opens.
Dog leaps out.
With wild barking
claws at fence,
runs back and forth.

Squirrel streaks along fence top.
Leaps into the gnarled pear tree,
onto the top of the pergola.
Darts to the giant red cedar,
disappears into leafy hideaway
he calls home.

Dog whines,
settles in to wait.
Forever patient,
squirrel chatters
his displeasure...
or maybe heís laughing.


© by Judy Shimek Drechsler.
Used with the authorís permission.
†
†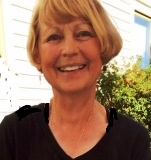 Judy Shimek Drechsler spent most of her teaching career in Anchorage, Alaska, where she taught literacy courses for the University of Alaska - Anchorage and was a full time primary teacher in the Anchorage School District. She retired to Port Townsend, Washington in 2000.and began writing poetry. Judy's work has been published in educational and literary journals and she has done presentations on literacy and writing for many conferences and school districts. Judy is the author of one poetry collection, Falling into One, published in 2016.
Jancan:
I think the squirrel is laughing up his furry little sleeve. This is a delightful poem!
Posted 07/05/2020 10:52 AM
Lori Levy:
Great portrayal of the dog and the squirrel.
Posted 07/02/2020 07:58 PM
michael escoubas:
I used to "love to hate" squirrels, Judy; but of late I'm trying to find good in them . . . this poem is helpful in finding good -- they are fascinating creatures to watch. Thank you.
Posted 07/02/2020 09:36 AM
bersone:
Very nice. Catches the humor in life and death moment. Makes you glad to be human.
Posted 07/02/2020 09:20 AM
KevinArnold:
For a dog-lover who?s infatuated with squirrels, this rocks.
Posted 07/02/2020 07:50 AM
Sharon Waller Knutson:
I loved this poem. Very well written, clever and humorous.
Posted 07/02/2020 07:25 AM